Posts Tagged 'Business Development'
December 13th, 2011
in Advertising & Marketing, Expert Guest Blog Entries, Law Firm Management |
In Part 1 of  "The secret to becoming a rainmaker," I shared the one thing that I think makes the greatest difference in lawyers who are effective business developers.  Here is an excerpt of that post:
This post isn't about telling you how to sell.  It's about me finally articulating the one attribute that stands out among all others – the one attribute that enables lawyers, regardless of practice area, industry strength, personality type, communication style, law firm or law school credentials, to consistently and effectively develop client relationships that pay off.
Here it is:  Stop thinking about yourself.
The "Secret to Becoming a Rainmaker – Part 1″ was that easy.  Now here is Part 2.
Remember the old product/service project triangle: "good – fast – cheap:  pick any two" -?  In another back-of-the-napkin, Pinot Noir-fueled discussion last Thursday with client and friend,Mark Shank, we discussed a "Triangle of Success" for lawyers (all professionals, really – anyone who sells their brain power and experience – including marketers and business development folks).  The traditional "pick any two" doesn't work for professionals who want to fast-forward their careers.
The "Triangle of Success" principle is nearly as simple as "Stop thinking about yourself."  For the highest level of success in the formative years of your career, professionals must equally embrace each side of the triangle.  The three legs of the triangle are:
Relationship development
Reputation management
Service delivery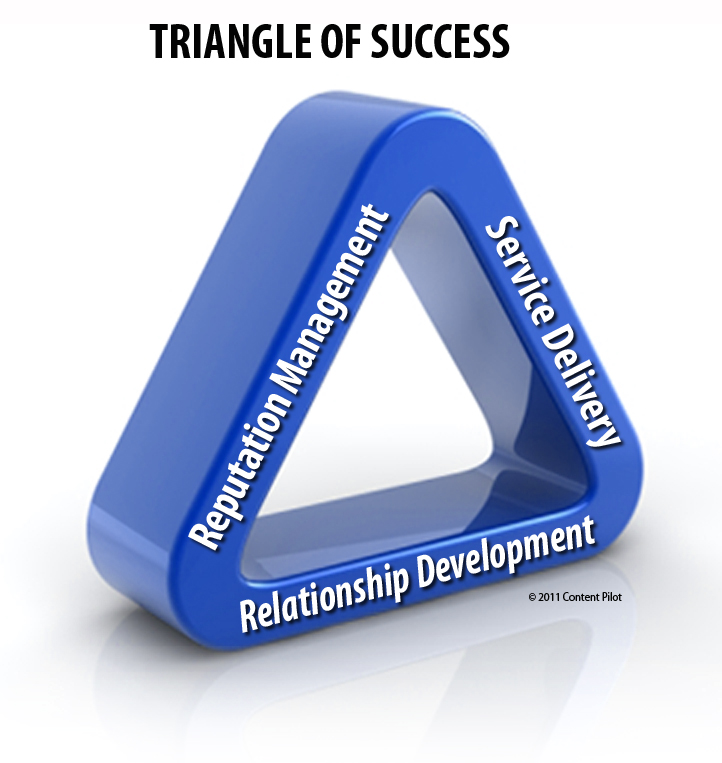 What we see here is an equilateral Triangle of Success.  When one's career takes off, it's natural to adjust the focus of the triangle – perhaps, as we learned in 10th grade geometry class, to an isosceles triangle, where you invest more heavily in two sides that are of equal length, with a third side that is shorter.  Another option is where all three sides are of unequal length, as illustrated in a scalene triangle.  But – for your success trajectory to continue throughout your career, you must invest something in all three areas.
Professionals who are especially technically proficient in their subject matter dismiss relationship development as too "touchy-feely."  They often don't respect those whose greatest proficiency is establishing rapport and trust among prospects and clients.  This group struggles to recognize that without clients, no law firm would exist.
Certain lawyers build their reputations through credentialing activities, such as speaking, publishing, blogging or tweeting.  They are known for being experts in an area, but they are sometimes not regarded for their exceptional service delivery.  Other practicing professionals may regard this group as "self-promoters," spending too much time on credentialing and not enough on clocking billable hours.
And the final triangle-leg is made up of those who are strong legal practitioners, who are the happiest when they are closed in their offices tackling a client's issue.  This group often relies on others to bring in the work – and they would feel challenged by having to give a speech or develop lasting, meaningful relationships with people who could be clients.
The need for balance is obvious, but too many professionals are – (I'm going to say it) – slackers in the areas that sit just outside their comfort zone.  Investing in the Triangle of Success takes commitment early in your career, similar to the discipline we have when it comes to exercise or eating right.  Don't just invest in the areas that are easy for you – equally invest in all three.
When you've attained a level of success, you can adjust your investment so that it is tailored to what you enjoy most.
November 9th, 2011
in Advertising & Marketing, Expert Guest Blog Entries, Law Firm Management |
The "last mile" is a supply chain management term (and a single released by hard rock/glam band, Cinderella, in 1989, and also a play and movie from the 1930s) that refers to a product's last mile before it gets to market and on store shelves. Apparently, it's the hardest and most expensive leg of the process.  According to Wikipedia, "This last leg of the supply chain is often less efficient, comprising up to 28% of the total cost to move goods. This has become known as the "last mile problem."
Tom Fishburne, a self described "Marketoonist," created this cartoon that reminded me of lawyer website biographies.  (You can subscribe for free to his weekly marketoon at www.marketoonist.com.)  His cartoons reach more than 100,000 marketers each week and have been featured in The New York Times, Fast Company and Wall Street Journal.
Law firm marketing and business development professionals struggle to inspire their lawyers to regularly update their website bios.  While this cartoon is applicable to a branding campaign or website as a whole, I want to narrow the focus and ask you to consider how buyers of legal services are evaluating their short list of professionals.
Here is how the lawyer selection supply chain works:
1. Buyers seek a referral from trusted colleagues or friends.
2. They make a short list of three to six lawyers to review.
3. They Google the lawyers' names to see what surfaces on page one or two of results.
4. Then, these buyers visit the lawyers' websites and biographies.
5. These buyers frequently print the bios and lay them side by side on a conference table and continue their evaluation, filtering out those lawyers who aren't meeting their criteria.
6. The buyers may call one, or perhaps two or three of the short list lawyers to interview.
7. They choose one lawyer over the others because the references were strong, the experience that the biography presented was current and relevant to the buyer's need, and the telephone or in person connection and communication between the lawyer and the client was warm, engaging and on-point.
8. The right lawyer gets hired.
Here is how the lawyer biography supply chain works on the law firm side:
1. The firm begins a website redesign or refresh.
2. Marketers contact the lawyers about updating their bios for the new website.  Perhaps there is a new bio format, so the old bio material must be (and it should be!) reorganized to better fit with today's scanning readers with short attention spans and viewing on mobile devices.  Lawyers are given a deadline of two months before launch.
3. One month before launch, only one-quarter of the bios have been updated, another quarter were sent back with "no changes" written at the top, and the final half of the lawyers have been radio silent.
4. Two weeks before launch, in the middle of beta testing, marketers continue to hound the firm's top professionals.
5. The site is launched with less than half of the bios updated.
6. And they stay that way for weeks, months or years.
7. The buyer of legal services views the bio of the lawyer referred to him and dismisses the candidate as "not the right fit."  The bio is dated, the photo is ten-years old and the lawyer insisted on being referred to as "Ms. So-and-so" throughout the bio instead of using the more accessible and familiar first name.
For the lawyers who refuse to update their bios, you aren't hurting your marketing team (although their frustration is mounting), you are hurting your chances of competing and getting hired.  If your bio is dated, bland or sounds like 1,000 other litigators, employment lawyers or corporate/securities/M&A lawyers, you will quickly be dismissed by buyers of legal services as irrelevant.
For those lawyers who do update your bios, but don't focus on what truly differentiates and distinguishes you, you may or may not get the chance for an interview.  Why take that risk?
For the small  handful of you who write an overview that is compelling, up-to-the-minute with regard to the work you are doing today, and include representative experience that answers the questions:  what have you done, for whom have you done it, and what can you do for me — you have the greatest chance of rising to the top of the thousands of lawyer website biographies.
And, bonus, your Google search results will be more relevant, too.  Google typically pulls the first 150 characters in a lawyer's bio for the search results.  "Marty" Truss (James M. Truss) is a litigation partner at Cox Smith in San Antonio.  Here is the overview for his bio.

And here is the top Google result when searching for "marty truss."  This is how Marty is known, and wants to be known.

Lawyers, please update your bios every quarter - refreshing them with new, more current keywords (think of the search terms your target buyers would use to search), recent publications, speeches, board appointments, and most importantly, experience.
More than 50% of your website visitors view the lawyer biographies.  And typically, these pages are viewed more frequently and longer than other pages on your website.  Website biographies are consistently the most important business development tools that lawyers have today.
Tags: bio, biography, Business Development, Cox Smith, Google, Law Firm, Lawyer, marketoonist, Marty Truss, Tom Fishburne
No Comments »
May 4th, 2011
in Advertising & Marketing, Expert Guest Blog Entries |
Biography
Larry Bodine is a business development trainer who has helped more than 250 law firms generate revenue and get new business by:
Training lawyers at firm retreats. At one-day or half-day programs, lawyers learn all the business development techniques that work, and are steered away from those that don't. A retreat is an ideal kick-off event to launch a business development initiative.
Coaching lawyers to develop their personal marketing plans. Using his proprietary four-page form, lawyers will meet with Larry to create a plan to pursue clients, referral sources, cross-selling opportunities and organizations of clients.  Typically, lawyers will multiply their revenues once a plan is in place.
Developing business development strategies. As a result, firms can identify their most lucrative, ideal clients; develop pursuit teams to acquire them; identify target industries where they have strength; have a five-year vision for the firm; and use a series of tactics to succeed.
Using technology to market a practice. Blogs, podcasts, Webinars, e-Newsletters and Web sites extend a lawyer's marketing reach, and work for a lawyer around the clock.
For more information, see www.LarryBodine.com.
A former litigator, Mr. Bodine has served as an expert witness in litigation involving Internet marketing disputes, including:
Advertising Dispute Between Two Leading Law Firms. In this case in state court between two prominent law firms, he was retained by the plaintiff to render an opinion on whether it was reasonable for the defendant to use the plaintiff's name as a keyword in a pay-per-click advertising campaign.
Quantifying Just How Famous is Paris Hilton is. Mr. Bodine was retained by the plaintiff in a state court libel lawsuit in a case against celebrity Paris Hilton.  He wrote a report quantifying Paris Hilton's presence on the Internet and the extent to which a defamatory remark spreads on the Internet.
The Value of a Website with a #1 Search Engine Ranking. In this case in US District Court, he was retained as an expert witness for the plaintiff in a case involving a dispute over the value of the plaintiff's website. He wrote a report, was deposed and the case settled.
Law Firm Hijacks the Name of the Founder. Mr. Bodine was retained as an expert witness for the plaintiff in a case involving the marketing effect of wrongfully advertising a Milwaukee lawyer's phone number and address to be at a competing law firm.  The case concluded with a very large settlement for his client.
Mr. Bodine has launched several online ventures that are considered the top destinations for information about law firm marketing.  He founded:
The LawMarketing Portal Web site, www.LawMarketing.com.
The bi-weekly LawMarketing e-Newsletter, which is broadcast to 2,000 subscribers across North America.
The LawMarketing Blog at http://blog.larrybodine.com.
The LawMarketing Listserv, founded in 1996, www.LawMarketing.Biz.
Apollo Business Development Webinars, which has presented fee-based online programs for seven years at www.PBDI.org.
Prior Employment
Director of Communications of Sidley, Austin Brown & Wood based in Chicago for eight years in the 1990s.
15 years' experience as a journalist, serving as Editor and Publisher of the American Bar Association Journal and other news publications.
Litigator with Stafford, Rosenbaum, Rieser & Hansen in Wisconsin.
Honors & Educational Activity
He is a Technolawyer Legal Technology Consultant of the Year, and an Edge Award winner, for writing the best article published in the ABA's Law Practice magazine: "What the Web Can Do for You" (Vol. 28: No. 8).
Mr. Bodine conducts online Web Seminars on business development and marketing.  See www.PBDI.org. He is also a well-known speaker on business development topics, including presentations for the American Bar Association Annual Meeting, several state (Arizona) and local (Chicago) bar associations, the TAGLaw network, ALFA International Global Legal Network, the National Association of Minority & Women Owned Firms, the Total Practice Management Association, ALM's LegalTech, the Legal Marketing Association, and the Association of Legal Administrators.
He is a cum laude graduate of both Seton Hall University and Amherst College.
Expert Articles
Contact Larry Bodine
Larry Bodine Business Development Trainer Phone: 630-942-0977
Lbodine@LawMarketing.com
www.LarryBodine.com

@larrybodine
Tags: Advertising Disputes, Business Development, Marketing Strategies
No Comments »