American Conference Institute
is pleased to announce the nominations for the
Women Leaders in Financial Services Empowerment Award.
 This award recognizes and celebrates the successes and achievements of women leaders in the financial services community. The winner will be announced at ACI's
3rd Annual Women Leaders in Financial Services Law and Compliance
conference on May 22 – 23, 2017 at the Andaz Wall Street in New York, NY. The nine extraordinary nominees who are taking this industry to the next level with their commitment and diversity initiatives are:
Nominee #1:  Erika R. Cappiello, Esq., Staff Attorney, South Florida Educational Federal Credit Union
Nominee #2:  Elizabeth "Liz" M. DeSilva, Vice President & Chief Servicing Counsel, Legal, Ditech Home Loans
Nominee #3:  Alaina Gimbert, Senior Vice President and Associate General Counsel, The Clearing House Payments Company, LLC
Nominee #4:  Colleen Hennessy, Corporate Secretary, Associate General Counsel, BMO Financial Corp
Nominee #5:  Nicole Ibbotson, General Counsel, InComm Financial Services, Inc.
Nominee #6:  Kimberly S. Owens, Managing Director and Associate General Counsel, Nuveen
Nominee #7:  Karyn Polak, Deputy General Counsel, PNC Bank, NA
Nominee #8:  Kathleen Ryan, Senior Corporate Counsel, H&R Block
Nominee #9:  Jane Son, Director, Banking Legal, Barclays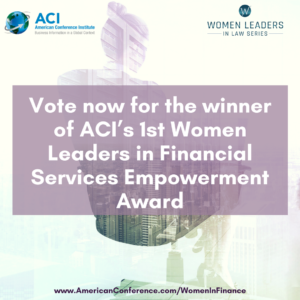 For more information about the nominees and to cast your vote please
click here
.  
Please note voting is open until 5:00 p.m. EST on Tuesday, May 9th
and you may only vote for once for one candidate.
http://www.AmericanConference.com/WomenInFinance
American Conference Institute's Diversity Mission:
ACI's Women Leaders in Law series aims to promote diversity and increase the prominence of women in the legal community through substantive legal discussion, professional development, and woman-to-woman networking. Our conferences provide industry specific forums for female powerbrokers to unite and discuss the substantive legal developments, challenges and opportunities facing women in their respective industries as well as provide them with the business contacts and communication and leadership skills necessary for continued success and career advancement.  For more information about this series, please contact
Stephanie Butler, Division Manager, American Conference Institute
at
[email protected]
.