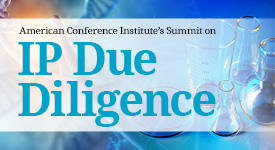 Hear from top leaders as they discuss best practices and tips for completing a thorough, cost-effective due diligence analysis in today's evolving life sciences climate.  We are honored to have three co-chairs for the event—Adda Gogoris, Tom Irving, and Jennifer Zarutskie Sieczkiewicz—who together bring more than 75 years of diligence experience.  Our co-chairs prepared a mock deal fact pattern, and the program sessions will address the challenges and provide solutions for the issues posed by the mock facts. This novel and unique format will allow attendees the opportunity to get hands-on experience and insider tips for successfully navigating each step of the due diligence process. Preview the mock fact pattern here – goo.gl/cb9Gm9 The event will take place on November 2-3, 2017 in Philadelphia.  Our stellar speaker faculty includes in-house diligence representatives from 
Allergan, Biogen Inc., Blaze Bioscience, Inc., BŌNWRx Ltd., Dr. Reddy's Laboratories Ltd., Eisai Inc., ImmunoGen Inc., Ipsen Bioscience Inc., Jounce Therapeutics, Merck & Co. Inc., Microvention, Inc., Novartis Pharmaceuticals Corp., Shire Pharmaceuticals, Teva Pharmaceuticals, Transformative Legal, LLC, VBI Vaccines Inc.,
 as well as 
top law-firm diligence experts.
 Visit our website for our complete faculty list. Our speakers will dive into all of the biggest diligence challenges industry faces in this space, as they address best practices and tips for maximizing the value of your life sciences IP portfolio.  Session topics include: – Analyzing the Current Patent Landscape: AIA, Post-Grant Proceedings, Evolving Jurisprudence, and the Effects on Patent Strength – Uncovering Red Flags in Inventorship and Patent Ownership – Diving into the Patent Portfolio: Examining the Scope, Patentability, Validity, and Enforceability – Focusing on Freedom to Operate: Analyzing the Market – Show me the Money: Strategies to Overcome Valuation Challenges – And our post-conference workshop session on Best Practices for Managing the Entire Due Diligence Process from Both Sides' Perspectives Full information on the forum can be found at 
https://www.AmericanConference.com/IPDueDiligence