If you are involved in post-grant proceedings, it is imperative to understand the broad scope of estoppel when evaluating your strategy for parallel proceedings.
The Western District of Wisconsin held this week
that "any ground that the petitioner . . . reasonably could have raised during that inter partes review [includes] non-petitioned grounds that the defendant chose not to present in its petition to PTAB." The court followed the Federal Circuit's lead in not applying estoppel to non-instituted grounds, but said that under 315(e)estoppel, defendants will not be able to hold back prior art/invalidity contentions from the PTAB and later present them in the District Court.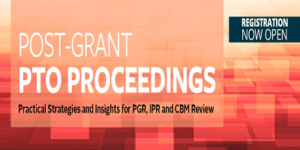 ACI's Post-Grant PTO Proceedings conference
will provide you with a thorough analysis of these important trends and how they impact PTO practice in our featured post-conference workshop: