Press Release Published on Digital Advertising Alliance – Released on May 7, 2015
NEW YORK, NY – May 7, 2015 – The Digital Advertising Alliance (DAA) today announced that enforcement of its Principles in the mobile environment (DAA Mobile Guidance) will begin on September 1, 2015, including new guidance specific to mobile, such as cross-app data, precise location data and personal directory data. The Council of Better Business Bureaus (CBBB) and the Direct Marketing Association (DMA) will extend their ongoing independent oversight of the DAA Principles on browsers to the mobile space . . . [ Read More ]
Related Events: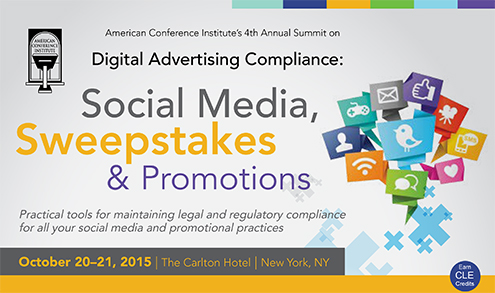 ACI 
is pleased to bring you its critically acclaimed program on 
Digital Advertising Compliance: Social Media, Sweepstakes & Promotions
 on October 20-21 in New York, NY. Designed from industry input, this exciting program features several new topics and will help you obtain a greater understanding of the legal and regulatory challenges impacting digital advertising, sweepstakes, and promotions.
Learn more.