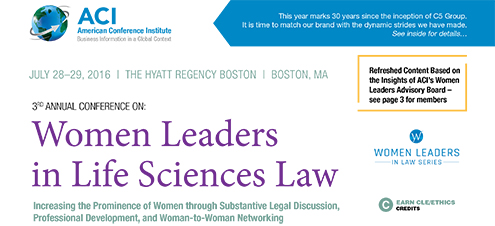 Last year, over 175 life sciences leaders attended this inspiring and energizing program. The attendee list for the 2016 event already reads like a who's who of industry leaders – reserve your place today to ensure that you do not miss out.
VIEW SOME OF THE PARTICIPANTS

HERE
Don't just take our word for it that this program is amazing. Hear what past participants have to say about this one-of-a-kind event: "The Women Leaders in Life Sciences Law conference benefits women of all levels in their career. The training and stories help guide young women lawyers as they navigate their next steps and the networking opportunities give more experienced lawyers the support they need to achieve the next level. This conference will be on my calendar every year." – Gael Diane Tisack, Terumo Cardiovascular Group Vice President of Legal Affairs Terumo Americas Vice President of Intellectual Property,
Terumo Corporation
"The conference was outstanding. Both in terms of content and from a networking perspective, I found it invaluable." – Moji James, Senior Vice President and General Counsel,
Iroko Pharmaceuticals, LLC
"This was a very well put together conference with a variety of engaging topics and impressive speakers. Well worth attending." – Mary Z. Monovoukas, VP, Chief Global Regulatory & Privacy Counsel,
Boston Scientific
"A life changing event which is well worth the cost…I am a better person for having attended and am truly blessed to have been part of it." – Elena Rossano, Assistant General Counsel,
Purdue Pharma L.P.
"The event allows attendees to candidly discuss their insights and experiences in the life-sciences industry, and to connect as both as a community of life sciences professionals and women leaders." – Marianne Slivkova, Director – Legal,
Acorda Therapeutics, Inc.
"This conference is one of the few events I have attended that is focused on women helping women with real-life, practical tips on how to make a significant impact on your career. Many of the speakers are willing to share stories not just of success, but stories of adversity and how to turn those situations around into successful ones. I block my calendar early, so I can be sure to attend each year." – Christine Bellon, VP, Legal Affairs,
Blueprint Medicines
"Among the many women's conferences I've attended, I have to say that the open, inclusive feel to this one is unique. The panel discussions are insightful, and networking events are quite enjoyable. This conference is a rewarding opportunity to meet women– both faculty and attendees– who share a common belief that strength and confidence come from supporting, uplifting and encouraging other women without fear of competition. It is a most empowering experience and I'm honored to have been a part of it." – Deborah A. Logan, Senior Counsel, Branded Pharmaceuticals,
Endo Pharmaceuticals Inc.
Following on the success of last year's event, this year's conference features even more networking opportunities including a luncheon led by ACI's Women Leaders in Life Sciences Advisory Board, more substantive discussions on the most pressing issues facing the industry today and an unprecedented speaker faculty of leaders from the top life sciences companies:
VIEW FULL AGENDA HERE