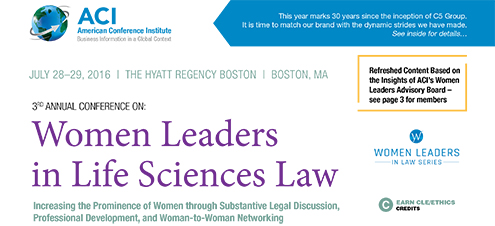 www.AmericanConference.com/LSWomen
________________________________________
The American Conference Institute is pleased to announce that it is accepting nominations for its 1st Annual Women Leaders in Life Sciences Empowerment Award. The award has been created to recognize and celebrate the successes and achievements of women leaders in the life sciences legal community and to honor those who have displayed a commitment to diversity, inclusion, and furthering women's advancement in the legal profession. As a valuable member of our Women Leaders in Life Sciences community, you are invited to nominate one peer for this award, which will be presented at the 3rd Annual Women Leaders in Life Sciences conference in Boston on July 28, 2016.
Nominees will be selected in accordance with the following award criteria:
Nominees must be a woman who is currently practicing in-house at a biotechnology, pharmaceutical, or medical device company;
Nominees should have at least five years' legal practice experience including two years' in-house as of June 1, 2016;
Strong nominees will display several of the following characteristics;
Excels in her field;
Demonstrates dedication to delivering first-rate legal service;
Displays enthusiasm and passion for her work;
Paves the way for other women to succeed;
Has made an impact on the advancement, recruitment, or retention of women lawyers;
Acts as a champion of other women and cultivates strong relationships with her peers in the community; and
Engages in sponsorship and mentoring relationships
RULES & GUIDELINES FOR NOMINATION AND SELECTION
1. Review the relevant eligibility criteria and submit your nomination to
[email protected]
by Thursday, June 30, 2016
. All entries must include the name of nominee, company, and a brief explanation as to why this person demonstrates the above characteristics and should be considered for the 1st Annual Women Leaders in Life Sciences Empowerment Award. If possible, please provide their contact details. All entries are confidential and will be viewed by American Conference Institute personnel only. 2. ACI will tally the nominations. After receiving express consent from the nominees, ACI will make the top finalists public via a polling website. Polling will take place between
Tuesday, July 5 and Friday, July 8, 2016
. Members of the community can cast their vote for the awards recipient during the polling period at the following address
HERE: www.surveymonkey.com/r/KYQ7GZ2
3. The winner will be notified the week of
July 11th, 2016
, and the award will be given out during the 3rd Annual Women Leaders in Life Sciences conference. The winner must agree to be present at the awards ceremony in order to receive his or her award. 4. Please feel free to contact Nicole Turner and Stephanie Butler at
[email protected]
with any potential questions or feedback about the nomination and awards process. For more information on this year's program, click
HERE
.