NEW YORK – March 6, 2017 – PRLog – American Conference Institute (ACI) is pleased to announce that Sabeena Ahmed, Chief Legal Officer and Chief Compliance Officer for Bank of China International (USA) Holdings Inc. will be the keynote speaker at our
3
rd
Annual Women Leaders in Financial Services Law and Compliance
this year. The Women Leaders in Financial Services conference will take place at the Andaz Wall Street on May 22-23, 2017 in New York City.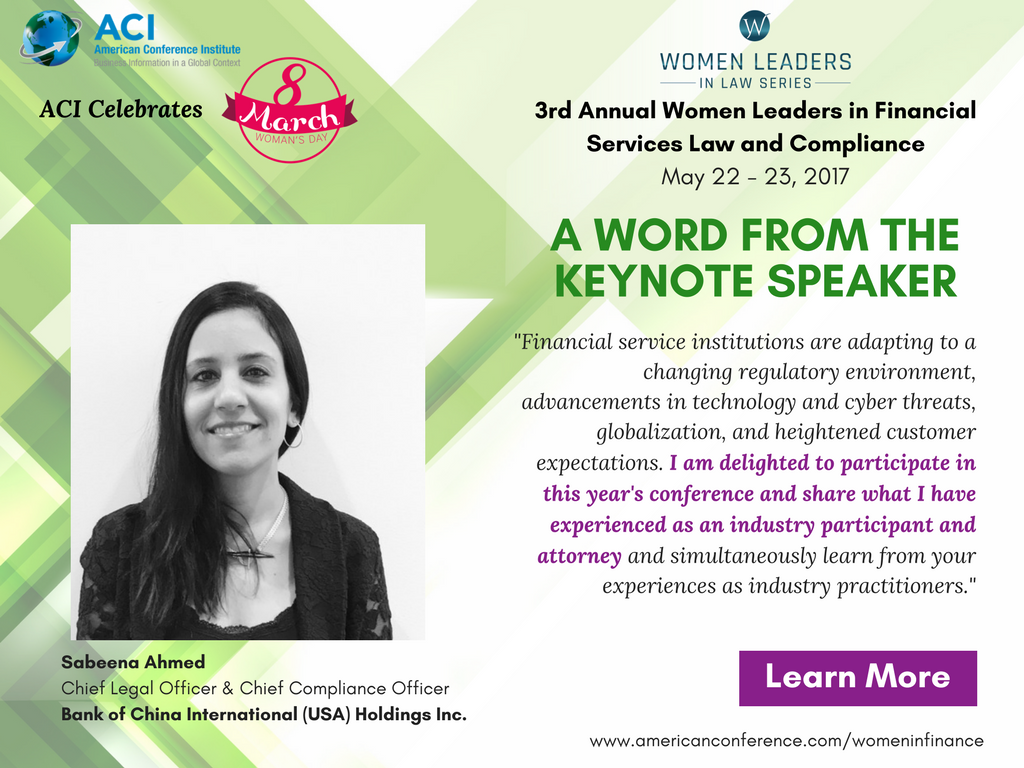 Ahmed commented, ""Financial service institutions are starting to embrace new, unprecedented changes to their business models caused by a variety of factors, including a changing regulatory environment, advancements in technology and cyber threats, the globalization of the financial services sector, and heightened customer expectations. I am delighted to participate in this year's conference and both share with you the tsunami of change I have experienced as an industry participant and attorney and simultaneously learn from your experiences as industry practitioners."
Megan Furino, Legal Conference Producer with ACI stated, "ACI is proud to provide a forum where legal, regulatory, and compliance professionals can converse with the CFPB, CFTC, FDIC, and FINRA on the matters affecting the financial services industry.  We are also pleased to bring attendees the opportunity to network with and learn from representatives from prominent companies such as ADP, Better Mortgage, eBay, Federal Reserve Bank of New York, Fenway Summer LLC, InComm Financial Services, Manulife Asset Management, Massachusetts Mutual Life Insurance Company, Netflix, Inc., PayPal, Inc., PNC Bank, RBC Capital Markets, and Self-Help, who will present at this one-of-a-kind conference."
The 3
rd
Annual Women Leaders in Financial Services Law and Compliance is the only forum specifically curated to address the needs of female attorneys and compliance professionals across the financial services industry. Linsey Krolik, Senior Director, Product Counsel at PayPal, Inc., Zara Reader, Director, Payments Products Counsel at eBay, and Wanda M. Richards, Senior Counsel, Legal Department at PNC Bank, National Association will serve as co-chairs of this year's event.
Full information on this forum can be found at
www.AmericanConference.com/WomeninFinance.
---
A unique organization, American Conference Institute is devoted to providing the business intelligence that senior decision-makers need to respond to challenges both here in the US, and around the world.
Staffed by industry specialists, lawyers, and other professionals, American Conference Institute operates as a think tank, monitoring trends and developments in all major industry sectors, the law, and public policy, with a view to providing information on the leading edge.
Headquartered in New York and led by Eileen Baird, Senior Vice President, and Lisa Riley, Managing Director, American Conference Institute has grown to produce annual industry leading events, attended by thousands of senior delegates from across the country.
Contact
Linda Lam


[email protected]