Jim Dudukovich  
Senior Marketing, Digital & Social Media Counsel The Coca-Cola Company

@JimDudukovich
Tell us about yourself:
I grew up in Lorain, Ohio, did my undergrad in engineering at Case Western Reserve University and went to law school at Michigan.  I love spending time with my kids, painting, playing poker, riding my Vespa, and rooting for Cleveland sports teams (and The Ohio State University).
Tell us what a day is like in your field:
I spend much of my time in meetings generating work to do when all of the meetings are finished (when the meetings eventually stop I'll have a lot to do).  I try hard to have an open door policy and to be available to talk to anyone anywhere about anything that I might be able to help with.
Tell us what you like about working at your company:
The Coca-Cola Company is the owner of one of the world's most valuable brands and is a cultural icon, so everything we do has a chance to make a difference in people's lives; I love being a part of that.
Tell us what you would change in the industry:
I wish it were easier for consumers to tell the good guys (who do things the right way) from the bad actors (who create a cloud of suspicion over the whole social media world).  The regulators and legislators are not comfortable that consumers can identify who the bad guys are or fend for themselves, and so we are constantly under the potential threat of sweeping legislation at the Federal or state level that could disrupt otherwise acceptable practices.
Give us one tip/best practice:
We find ourselves trying to apply laws that were written on parchment paper three hundred years ago to situations that those lawmakers couldn't possibly have contemplated, and so it's not always an easy fit.  To solve for this, it's important to use common sense, and to remember that social media – and the sharing dynamic that forms the backbone of it – was not originally created for marketers; marketers can't behave credibly in the social media space the same way that individuals or the media can.  Remember who you are and what your role in social media is and you might just be okay.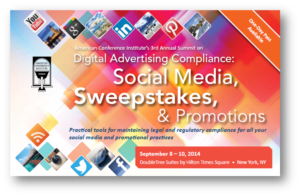 When:
 Tuesday, September 09 to Wednesday, September 10, 2014
Where:
 DoubleTree Suites by Hilton Times Square, New York, NY
Learn More
:
http://www.americanconference.com/digitaladvertising 
Follow  @ACIMarketing

 

 and use  #DigitalAdv to join the conversation.