Ryan Garcia
Legal Director Dell Inc.

@SoMeDellLawyer
Tell us about yourself:
Grew up in California, undergrad Michigan, law school Texas.  In my free time I read science fiction, write comic books, watch Broadway and other theater, talk about social media, and drive my oldest son to dance classes and competitions.
Tell us what a day is like in your field:
I start off with a completely booked schedule.  By 10am every meeting has been moved or new ones have been scheduled.  I talk to/email dozens of social media practitioners around the globe about anything from a contest to a flame war to platform terms.
Tell us what you like about working at your company:
Dell is an incredibly dynamic company doing amazing things in more spaces than you realize.  And since we've been doing social media company-wide for years the evolutionary issues we face are at the leading edge.  We get to be true explorers in the space while we help our customers and ourselves thrive in social media.
Tell us what you would change in the industry:
Social media and digital advertising is a dynamic and bold space—I would like the regulators to be equally bold.  I wish they would give concrete guidance rather than suggestions of ways to be accommodating.  With that concrete guidance would come the understanding that the guidance might change as we learn more or usage patterns change and the industry will have to keep a close eye for those changes.  But right now US regulators shy away from giving concrete examples while regulators in other countries are giving concrete guidance (like the UK's usage of #paid or #spon being bright line tests).
Give us one tip/best practice:
The three most important things a lawyer in the social media or digital advertising space can do to help their clients are training, training, and training.  This is a fascinating space that moves so quickly but is still so young.  Lawyers have a chance to be proactive in working with their clients to establish best practices and streamlined procedures that will keep your clients moving at the speed of business while the lawyer doesn't have to worry (as much).  Plus there are hundreds of fantastic stories in the social media universe about risks that can be used by lawyers to entertain and educate their clients.  Not only will the business reduce their exposure but lawyers can establish themselves as a collaborative partner rather than someone at a desk with a big "REJECTED" stamp.  Because I've looked and I can't find that stamp anywhere.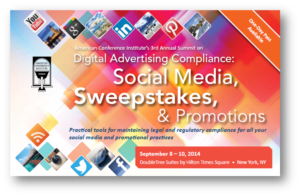 When:
 Tuesday, September 09 to Wednesday, September 10, 2014
Where:
 DoubleTree Suites by Hilton Times Square, New York, NY
Learn More
:
http://www.americanconference.com/digitaladvertising 
Follow  @ACIMarketing

 

 and use  #DigitalAdv to join the conversation.