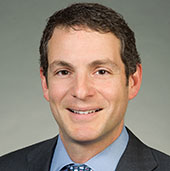 ADAM RUTTENBERG is a partner in the Cooley Business department and the head of the Firm's Technology Transactions Group. He joined the Firm in 2000, and is resident in the Firm's Washington, DC and Reston offices. Mr. Ruttenberg advises a number of leading technology companies regarding the exploitation of their intellectual property assets. His practice focuses on all aspects of technology transactions, including counseling, structuring and negotiating such deals. Mr. Ruttenberg has broad experience representing emerging companies and large corporate clients in technology and intellectual property matters.His strategic counseling experience includes developing commercialization distribution and pricing strategies for companies. In 2006 – 2009 the Washington Business Journal recognized Mr. Ruttenberg as one of the DC area's top technology transactions lawyers. From 2006 – 2013, Mr. Ruttenberg was named one of the Best Lawyers in America. The Legal 500named Mr. Ruttenberg as a leading lawyer in the field of technology transactions in 2008 – 2013. Mr. Ruttenberg is currently listed as one of the world's leading patent and technology licensing lawyers in the IAM Licensing 250 and the IAM Patent 1000. Prior to joining Cooley, Mr. Ruttenberg was the Vice President of Contracts and Sales Operations of MicroStrategy Incorporated. Previously, he had been in private practice representing technology companies in information technology and biotechnology matters. Mr. Ruttenberg received a JD in 1992 from Washington University in St. Louis where he was a member of the Order of the Coif. He received a BS in Genetics, Microcell Biology and the Philosophy of Science from the University of Minnesota in 1989. Mr. Ruttenberg has published numerous articles on business transactions, technology transfer, intellectual property and internet law. He is also a frequent speaker on these topics. Mr. Ruttenberg is a member of the bars of the Commonwealth of Virginia and the District of Columbia.
 Tell us about yourself:
I was born in Washington, D.C. and grew up in the Midwest.  I went to the University of Minnesota for my undergraduate studies and then went on to Washington University in St. Louis Law School.  I have been practicing law in the Washington, D.C. area since 1992.
What is a day like in your field? 
Each day for me is different and that is what I love about my job.  Some days I will be dealing with nuanced intellectual property issues, others I will be dealing with the CEO of a start-up on licensing models and still other days I will be in negotiations all day.  I get to deal with all types of technology and media, people and size of companies.
What do you like about working at your company?  
Being at Cooley gives me access to some of the brightest and best attorneys in the worlds.  Working with these individuals along  with the culture of the firm dedicated to working with technology based companies is unique and the support I get is what really makes working at Cooley great.
What would you change in the industry?  
If I could change one thing about the industry it would be the expectation of speed.  It was not that long ago that attorneys did not use cell phones, e-mail and computers.  I believe that while the use of these new technologies is critical and helps bring efficiencies to clients, they also bring a downside and that is a loss of civility and an expectation of 24X7 access and zero turnaround time.  If everyone would slow down I think it would bring back civility and attorneys and clients could take more time to ensure that the relationship was as proactive as it should be.  Not everything is an emergency and not everything has to be done yesterday. Sometimes, a slower and more thoughtful approaches better.  I am lucky tin that I get to work with many clients that share this philosophy, but I know that this is not a universal view.
What is the tip/best practice you would like to share with your peers?
An understanding that the allocation of intellectual property is sometimes a complex exercise and that if people think through the ramifications of the buzzwords carefully they will realize that they can have unintended consequences.  It is important to think through all of the implications of a given ownership structure and make sure it aligns with the business purposes of the parties.
For a list of past intellectual property conference proceedings:Click Here