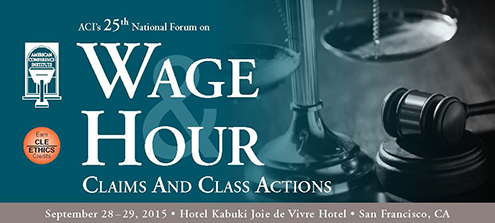 Jay J. Price, Assistant General Counsel, Bank of America, will be speaking at our upcoming Sept. 28-29 Wage & Hour Claims and Class Actions forum in San Francisco.  In anticipation of the upcoming conference, check out our recent Q&A with Jay.
1. How will the DOL's new/proposed federal overtime regulations with regard to "white collar exemption" requirements affect your practice?
At a minimum, the new salary requirements for both traditional "white collar" exemptions and the "highly compensated employee" requires re-testing their workforce compensation data by every employer who utilizes those exemptions. Also, the DOL's equivocation on whether changes to the FLSA "duties test" are in the offing will require ongoing monitoring of further developments.
2. What impacts will the NLRB's redefinition of "joint employer" in Browning-Ferris have on future wage and hour claims?
Certainly in the NLRA it matters a great deal & there will be spill over into other fights over who is the "employer" with wage and hour law continuing to be one of those areas trending in that way ( e.g., the year old revisions of Calif. Labor Code, Sec. 2810.3, making the end-user share with the providing staffing vendor responsibility for wages and workers' comp coverage of the contract staff.
3. What will the implications be of the Latest DOL Guidance on Independent Contractor vs. Employee?
Very, very similar to the NLRB's Browning- Ferris decision.
4. What are the latest nuances/twists you are seeing in off-the-clock claims?
Following several recent U.S. Supreme Court cases, there seems to be renewed interest in "doffing & donning"—worker prep & cleanup time such as log-in/log-off procedures– as "time worked."
5. Are you seeing a rise in claims based on state-level wage violations?
Not per se, but especially in California that remains a very active area for us.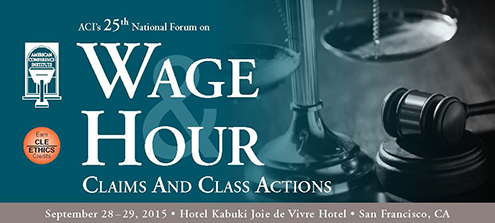 When: Monday, September 28 to Tuesday, September 29, 2015 Where: Hotel Kabuki, San Francisco, CA Learn More: 
http://goo.gl/DJLLBU 
Keep the discussion going and join us on Linkedin: 
ACI: Employment Law Professionals
Follow Us on Twitter:
@ACIEmployment
 To join the conversation use #ACIWandH