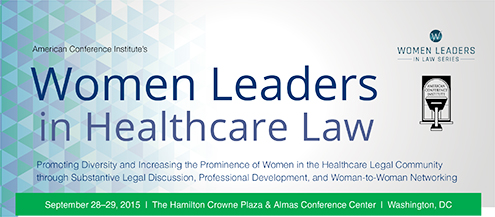 On average, women lawyers earn approximately 87% of what their male counterparts earn. The healthcare legal industry, with its under-representation of women in upper management positions including General Counsel, Chief Legal Officer, and Chief Compliance Officer, is prime ground to effect a cultural shift.   As part of that shift, we're proud to offer our first-ever
Women Leaders in Healthcare Law conference, September 28-29 in Washington D.C
., an event aimed to empower women in the healthcare legal community and give women the skills necessary for continued success. Despite myriad diversity initiatives and a marked increase in women in leadership roles, the statistics show that full acceptance still manages to elude women in the profession overall. In 2014,
Rock Health
decided to publish the gender data on their founders. According to the results in their study (which can be found here), only 30% of their portfolio companies had a female founder (today, they're at almost 34%). Recently, Rock Health released its third annual report,
"The State of Women in Healthcare"
and it shows, disappointingly, that women are not only still widely misrepresented in healthcare leadership positions, they feel their gender is holding them back from progressing further. "We surveyed over 400 women in the industry to better understand the sentiment around gender discrimination," Rock Health states. "96% of the women we surveyed believe gender discrimination still exists. And almost half of them cited gender as one of the biggest hurdles they've faced professionally."
"Despite making up more than half the 
healthcare workforce
, women represent only 21% of executives and 21% of board members at Fortune 500 healthcare companies," states the Rock Health report. "Of the 125 women who carry an executive title, only five serve in operating roles as COO or President. And there's only 
one woman CEO
 of a Fortune 500 healthcare company." It is time to address the elephant in the room: the legal playing field has been leveled over the course of the last few decades, so why do so many women in the healthcare space still feel that they need to work harder than their male counterparts to break into an old boys' club? It is a clear business imperative that healthcare organizations and the law firms representing them must attract and retain female talent. While there are no easy answers in this space,
ACI's Women Leaders in Healthcare Law
conference will facilitate mentorship opportunities and help form new connections amongst women leaders as well as provide a forum for candid discussion of gender stereotypes and other implicit obstacles to advancement, and to talk about what has worked for other similarly situated women lawyers in the healthcare industry when faced with gender-specific challenges. For a full overview and more info on how to register
click here
.