How does a woman's career path differ from that of a man? The answer may surprise you – it has nothing to do with marital or parental status. What sets female and male career paths apart boils down to confidence and aspiration. Recently, Bain & Company put together a detailed report,
"Everyday Moments of Truth: Frontline Managers are Key to Women's Career Aspirations"
focusing on why women's confidence and aspirations drop drastically after just two years in the workplace. Bain & Company surveyed over 1,000 men and women in the US at all career levels, asking about their interests in pursuing C-Suite level positions at large companies. "43% of women aspire to top management when they are in the first two years of their position, compared with 34% of men at that stage" states the recent report. "However, over time women's aspiration levels drop more than 60% while men's stay the same. Among experienced employees (those with two or more years of experience), 34% of men are still aiming for the top, while only 16% of women are. As they gain experience, women's confidence also falls by half, while men's stays about the same."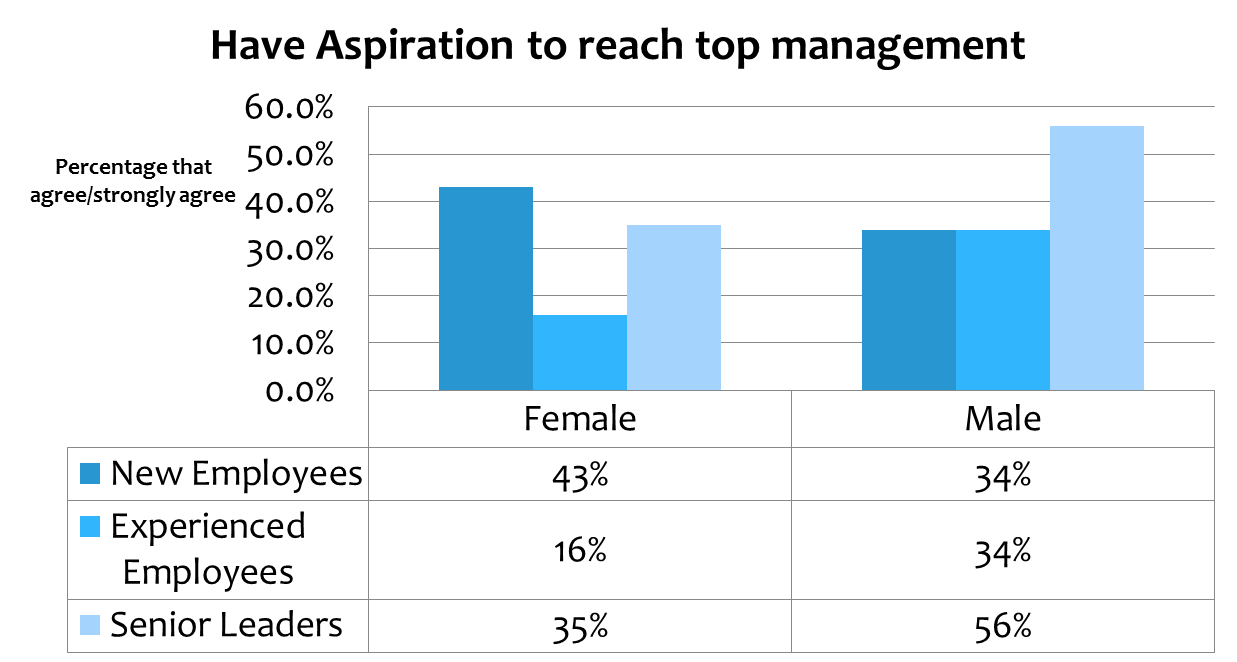 In analyzing the reason behind the significant drop  in female confidence and aspiration levels, Bain & Company looked at areas where the experiences of those who aspire to C-Suite positions differ most from those who don't. They also looked at how likely both men and women were to agree with positive statements about their companies at various levels in their career. Lastly, Bain confirmed findings by looking across career stages to see what kind of impact these different factors had on influencing employee engagement.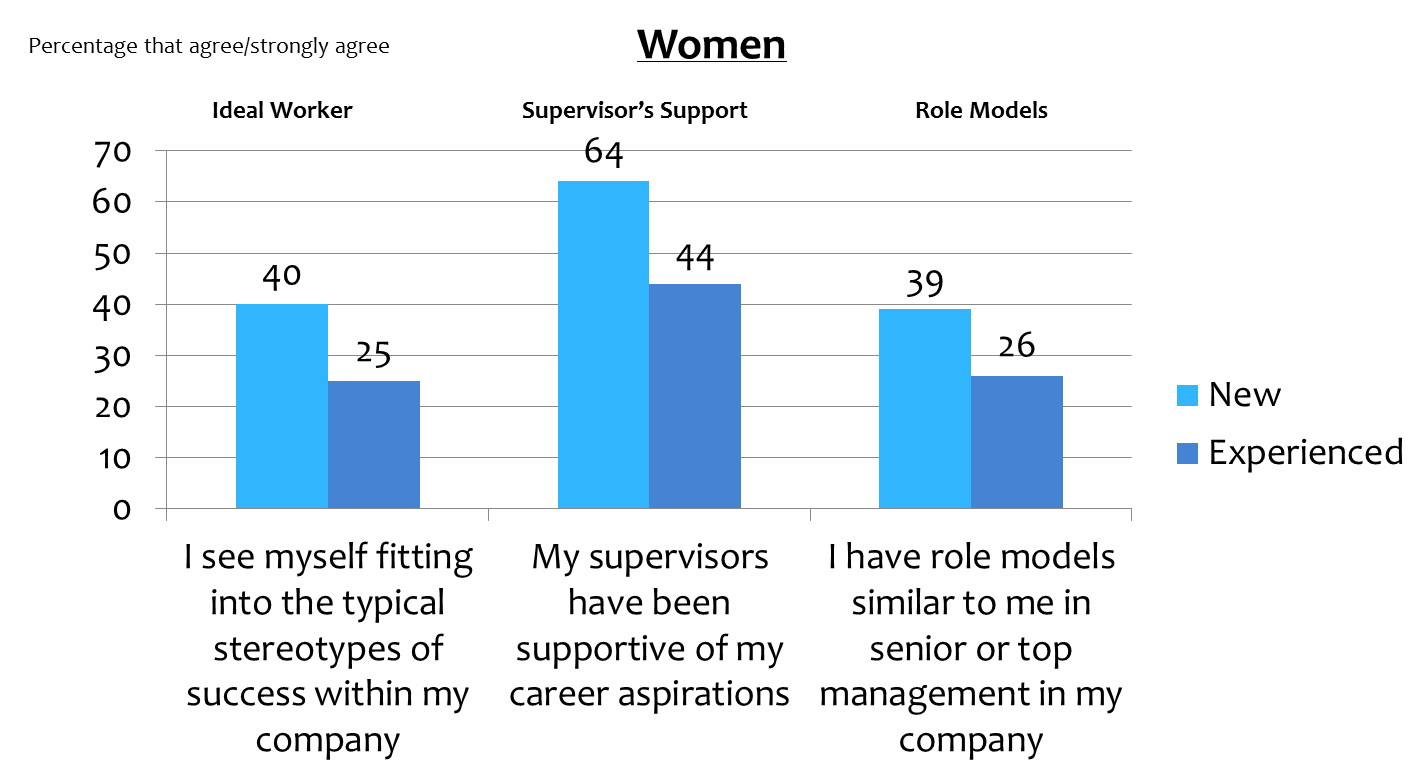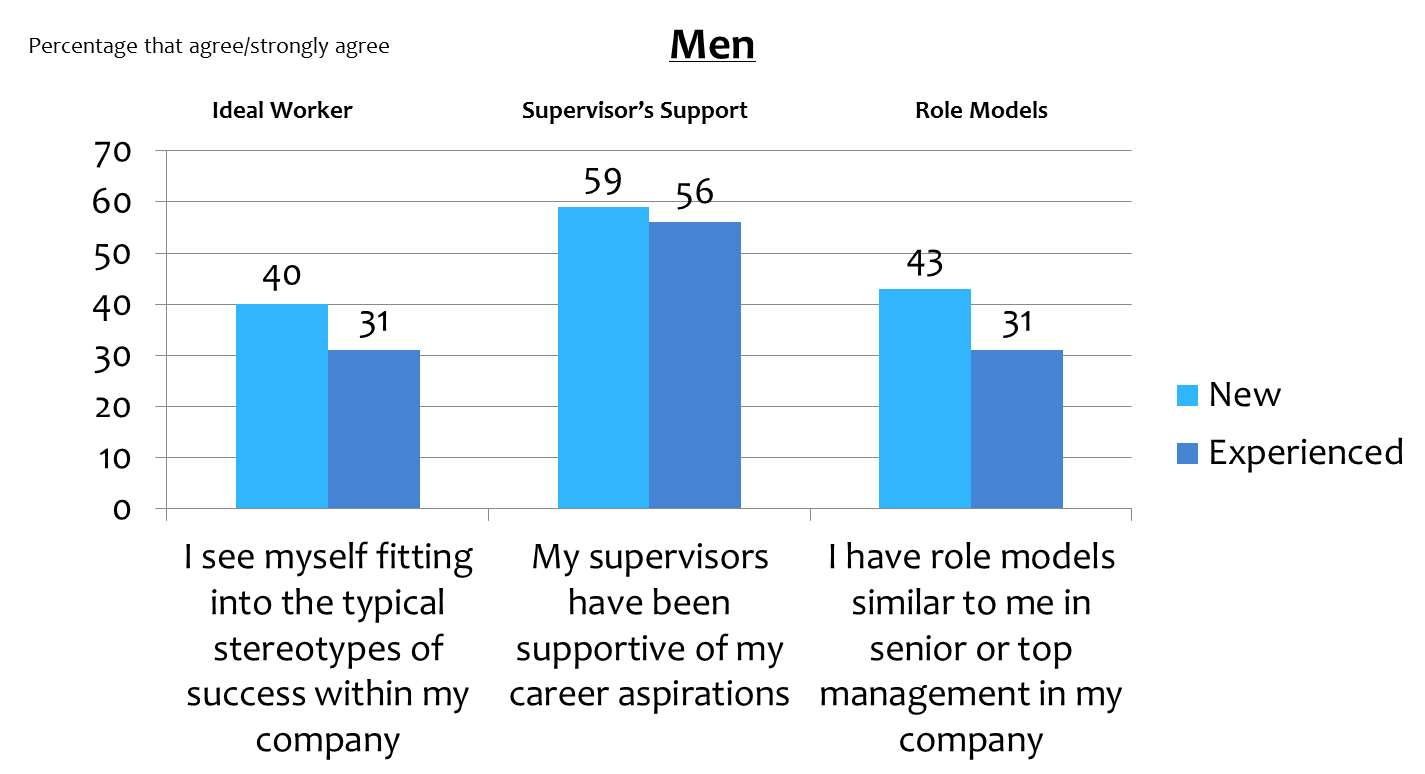 In a recent
Harvard Business Review article
analyzing the study, writers Orit Gadiesh and Julie Coffman discussed the disappointing drop in ambition among women noting, "Why the dashed expectations? To start, the majority of leaders celebrated in a corporate newsletter or an offsite meeting tend to consist of men hailed for pulling all-nighters or for networking their way through the golf course to land the big account. If corporate recognition and rewards focus on those behaviors, women feel less able, let alone motivated to try, to make it to the top." "Whatever the root cause, many women believe their supervisors don't know where they are in their career aspirations, or what to say or do to support them," states the Bain report. It's clear from the report that several changes needed to be made in order for women to have a greater sense of confidence in their abilities and not lose that sense of drive and determination they walk into their careers with but lose after just two years on average. In an effort to turn around the trajectory for female professionals, ACI has developed the
Women Leaders in Law Series
.
Women Leaders in Law
aims to promote diversity and increase the prominence of women in the legal community through substantive legal discussion, professional development, and woman-to-woman networking. At conferences, female power-brokers unite and discuss the substantive legal developments, challenges and opportunities facing women in their respective industries. We also provide business contacts, communication and leadership skills necessary for continued success and career advancement. Check out the portfolios for all of our upcoming Women Leaders in Law Series conferences:
Women Leaders in Life Sciences Law
Women Leaders in Insurance Defense, Claims and Compliance
Women Leaders in Healthcare Law
Women in Compliance Conference
Women Leaders in Advertising & Marketing Law
Women Leaders in Environmental and Energy Law