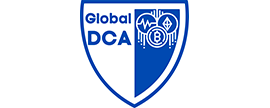 Global DCA
The Global DCA is a global self-regulatory association for the digital asset & cryptocurrency industry. Our organization was established to guide the evolution of digital assets, cryptocurrencies, and the underlying blockchain technology within a regulatory framework designed to build public trust, foster market integrity and maximize economic opportunity for all participants. Our broad-based membership of 80+ Member entities includes spot and derivative exchanges, proprietary trading firms, traders, investors, asset managers, brokerage firms, FCMs, custodians, decentralized technology organizations, banks, legal firms, audit firms, insurance professionals, academics, consultants, & media.
To fulfill our mission, the Global DCA devises standards and consensus-based solutions that address the major challenges facing the digital asset and cryptocurrency industry. We collaborate with stakeholders around the world, industry leaders and policymakers to support the growth of the global digital economy. Our efforts focus on the following three areas:
STANDARDS – Develop principles-based standards that guides industry stewardship and best practice.
EDUCATION – Provide education, training, certification and other resources to build human and technical capacity.
ADVOCACY – Advocate for a regulatory environment that facilitates innovation and protects consumers, stakeholders and the broader public interest world-wide.