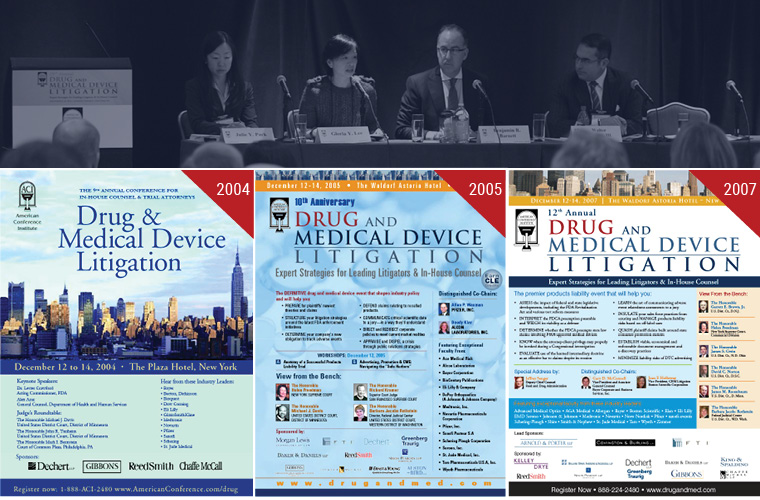 ABOUT DRUG AND MED
For the past 27 years, only one industry-shaping event has consistently allowed pharmaceutical and medical device companies and their outside counsel to exchange cutting-edge thinking on the latest developments and challenges shaping product liability litigation, the evolving theories behind new claims, and the guiding principles for minimizing damage in times of crisis.
That event is ACI's Drug and Medical Device Litigation Conference.
ACI's Drug and Medical Device Litigation conference has been the premier products liability litigation event for the pharmaceutical and medical device industries for over two decades. It has routinely provided industry veterans and first-timers alike with the necessary tools to proactively and effectively defend against an increasingly more aggressive plaintiffs' bar, as well as increased public and political scrutiny.
Each year, we bring together the top-notch, experienced, and senior-level faculty that you have come to expect, including in-house counsel, renowned defense practitioners, and distinguished jurists. Year after year, our attendees return to gain expert strategies from industry leaders who are in the trenches making news and setting precedents in the drug and device product liability arena.
Last year's event broke records with nearly 500 drug and medical device industry professionals in attendance, and we expect no less of this year's 27th Anniversary event. We look forward to seeing you this December!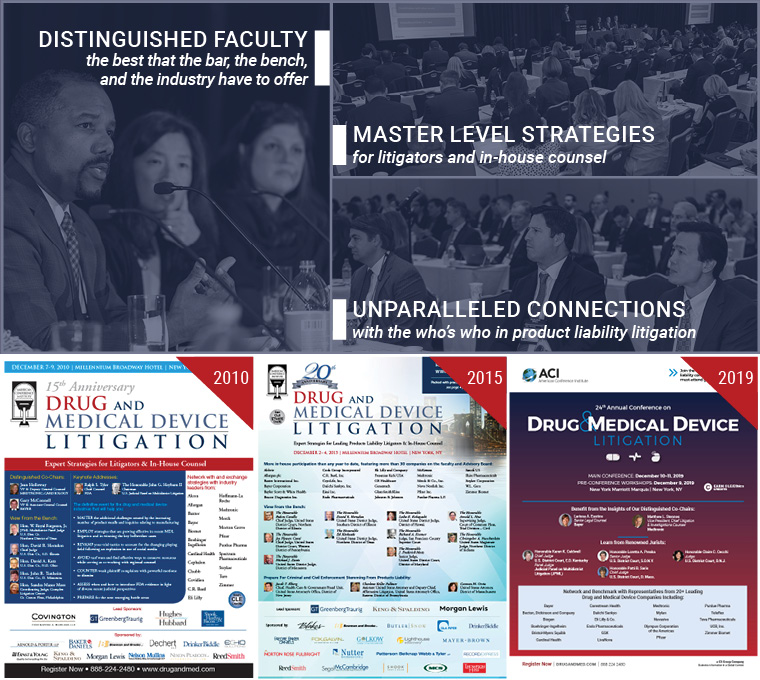 Over the last quarter century, many of the industry's leading drug and medical device counsel have lent their time and expertise to help pioneer this flagship event. Here is a look at some of our event co-chairs whose dedication have allowed this conference to grow into the premier products liability litigation event for the pharmaceutical and medical device industries for over two decades.
Sonia Arnold
General Counsel- Lilly Oncology
Eli Lilly and Company
Max Heerman
Senior Legal Counsel, Litigation
Medtronic
Bradley E. Lerman
General Counsel and Corporate Secretary
Medtronic
Drug and Med 2009, then Sr. Vice President and Associate GC- Litigation at Pfizer
Gary McConnell
Vice President and Associate General Counsel
Bayer
Rita McConnell (retired)
Vice President, Chief Litigation Counsel
Medtronic
Monique Hunt McWilliams
Assistant General Counsel
Eli Lilly and Company
Michael Parini
Executive VP & Chief Legal and Business Development Officer
Vertex Pharmaceuticals
Drug and Med 2013, then Senior Vice President & Chief Litigation Counsel at Pfizer
Sarah Padgitt
Associate General Counsel
Baxter International
William J. Ruane
Vice President & Associate General Counsel – Litigation
Wyeth
Kaspar Stoffelmayr
Partner
Bartlit Beck LLP
Drug and Med 2012, then Vice President and Associate General Counsel at Bayer
Lisbeth (Lisa) Warren (retired)
Assistant General Counsel
Johnson & Johnson
Past attendees rave about Drug and Med
There is no better forum for leading edge thinking on today's most pressing drug and med litigation challenges.
The ACI Drug and Med conference is a great opportunity to connect with other members of the products liability bar and get real-time and real-world information about mass tort litigation throughout the country.
…for almost 20 years. I try not to miss [this event] because I find it is a valuable way to learn about developments in the products field. Of course, it is also always great to catch up with in-house peers, outside counsel and to also meet new colleagues.
I look forward to the ACI Drug and Med Conference every year as I'm sure to find helpful discussion on current topics that matter to me as well as a balanced outlook from both in-house and outside counsel.