Virtual Conference On-Demand
Employment Practices Liability Insurance
Catch-up on critical information – on your own time.
The 29th Annual Employment Practices Liability Insurance conference took place January 26-28, 2021. Our outstanding faculty share insights on the most compelling topics impacting their daily lives and practices. See a snapshot of the event below then purchase the recording to watch at your convenience.
CONFERENCE CO-CHAIRS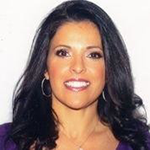 Mercedes Colwin
Partner
Gordon Rees Scully Mansukhani, LLP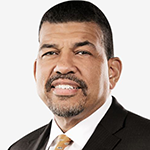 Darrell S. Gay
Partner
Arent Fox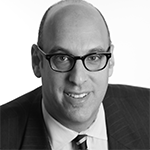 Jonathan Kurens, Esq.
Senior Vice President
Marsh USA Inc.
FEATURED SPEAKERS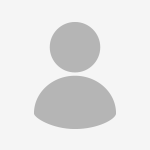 Charlotte A. Burrows
Commissioner
U.S. Equal Employment Opportunity Commission (EEOC)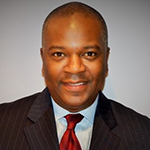 Oris Stuart
EVP, Chief People & Inclusion Officer
National Basketball Association (NBA)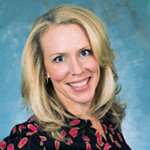 Heather Fox
General Counsel
ARC Excess & Surplus, LLC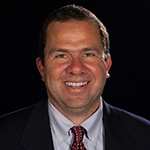 Christopher Williams
2nd Vice President, Employment Practices Liability Product Manager
Travelers
CONFERENCE HIGHLIGHTS
Employers and Outside Counsel Discuss What to Flag Now Before It's Too Late: Revisiting Your Post-Election, 2021 Risk Management Strategy and the Path Forward
Race, Gender and LGBTQ Discrimination Claims in Practice: New, Evolving and Surprising Trends, Developments and Risk Factors
Political Speech in the Workplace: What New, Evolving Legal Trends and EPLI Coverage Mean for Employers Moving Forward
Pay Equity Claims: New, Evolving Trends Affecting Claims, Defense Strategies and Wage Disparities
Restrictive Covenants: The Newest Grey Areas of Non-Competes and Enforceability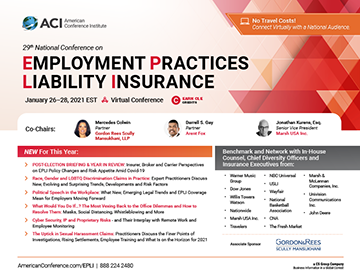 Conference Program
Look at our 2021 conference agenda to discover the informative topics discussed at this event.
View Full Program