The United States Department of Justice (DOJ) released its annual statistics for the False Claims Act (FCA) and fraud cases for fiscal year 2021. The DOJ reported that it recovered $5.6 billion in final judgments and settlements during this time period — the second largest annual total in FCA history, and the largest since 2014.
With 598 qui tam lawsuits filed in 2021, and 203 filed by DOJ, the recovery statistics for fiscal year 2021 show a sustained and aggressive use of the FCA by the government and qui tam relators alike.
The DOJ also announced that the Civil Division will "energetically use every enforcement tool available to prevent wrongdoers from exploiting the COVID-19 crisis." In addition, DOJ appointed a Chief Prosecutor to lead pandemic recovery fraud efforts.
Finally, DOJ revealed the creation of a Civil Cyber-Fraud Initiative that will utilize the FCA to pursue cybersecurity related fraud by government contractors and grant recipients.
By all accounts, the trend for government initiated FCA actions is continuing to climb, leaving the industry wondering:
What will total recoveries amount to at the end of Fiscal '22?
What can we expect for Fiscal '22?
Where will government enforcement priorities lie?
Which industries are at greatest risk?
What can you do now to prepare for the next wave of FCA enforcement and protect your client's interests?
ACI's 10th Advanced Forum on False Claims and Qui Tam Enforcement, taking place IN-PERSON in New York City, will address the underlying controversies and challenges posed by these questions. Join us for in-depth discussions and analyses of the latest guidance, initiatives, and enforcement statistics, featuring a faculty of government speakers and leading defense, in-house, and relators' counsel.
General Counsel
Chief Legal Counsel
Assistant General Counsel
In-House Counsel
Litigators
Outside Counsel specializing in :
False Claims Act
Fraud
Corporate Compliance
White Collar Crime
Government Contracts
Healthcare
Life Sciences
Financial Services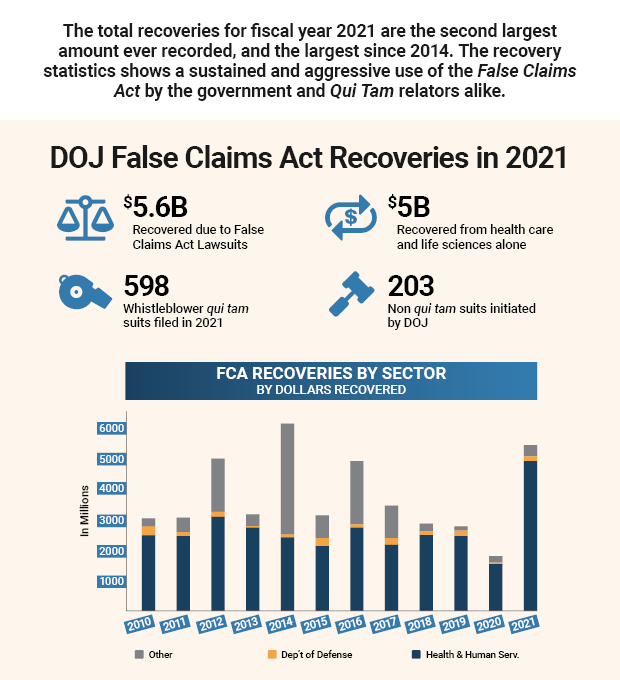 This conference provides a tremendous annual opportunity for attorneys from the government, Relator and defense bar to gather, present and discuss trends and issues concerning the False Claims Act in a structured, intimate, and informal setting.
Year after year, this forum provides practitioners from all perspectives a unique opportunity to learn about and engage in an open and frank dialogue regarding the most important enforcement trends, case developments, and practice tips in the False Claims Act arena.
I look forward to this conference every year. It provides valuable insight into how the various stakeholders analyze FCA issues – industry, prosecutors, and Relator counsel.