Strategies to Respond to the Rapidly Changing Landscape of False Claims Act (FCA) Enforcement
With more than 34.8 billion recovered by the government since 2010 under the federal False Claims Act, it has never been more crucial for private practitioners and corporate in-house counsel to keep abreast of the changes and hear a wide variety of perspectives on this rapidly evolving and highly challenging area of the law.
Now in its 7th highly successful year, American Conference Institute's Advanced Forum on False Claims and Qui Tam Enforcement returns to New York City at the Park Lane Hotel. This must-attend event provides the most up-to-date guidance and analysis available right from the most respected practitioners in the field, including a faculty of experienced government prosecutors and leading in-house counsel from industries most impacted by the expanding reach of the False Claims Act, including healthcare, pharmaceutical, defense, aerospace, tech & communication and financial services.
You will also hear directly from leading defense counsel and relators' counsel, who have defended and settled these cases.
Final Agenda and Speakers List Now Available.
Download Brochure Now!
DON'T MISS THE INFORMATIVE KEYNOTE ADDRESS FROM:
Stephen Cox
Deputy Associate Attorney General,
United States Department of Justice
A FEW WORDS FROM OUR CO-CHAIRS:
Savaria B. Harris
Senior Counsel, Regulatory Law
Johnson & Johnson
"This conference provides a tremendous annual opportunity for attorneys from the government, realtor and defense bar to gather, present and discuss trends and issues concerning the False Claims Act in a structured, intimate and informal setting."
Douglas W. Baruch
Partner
Morgan, Lewis & Bockius LLP
"Year after year, this forum provides practitioners from all perspectives a unique opportunity to learn about and engage in an open and frank dialogue regarding the most important enforcement trends, case developments, and practice tips in the False Claims Act arena"
ENGAGE AND INTERACT WITH
KEY INDUSTRY STAKEHOLDERS THAT HAVE HANDLED FCA CASES:
AECOM
BAE Systems, Inc.
Fluor Government Group
GE
Huntington Ingalls Industries, Inc.
Johnson & Johnson
Medtronic
Mount Sinai Health System
Northwell Health
Pfizer Inc.
U.S. Bank
HEAR DIRECTLY FROM SENIOR PROSECUTORS FROM:
Southern District of New York
District of Rhode Island
Eastern District of New York
District of New Jersey
Eastern District of California
State of New York
Office for the District of Columbia
Northern District California
As an FCA stakeholder, you simply cannot afford to miss this leading industry event to benchmark with top industry representatives. Register now to receive the best rates!
The recovery statistics for fiscal year 2018 show a sustained and aggressive use of the False Claims Act by the government and Qui Tam relators alike.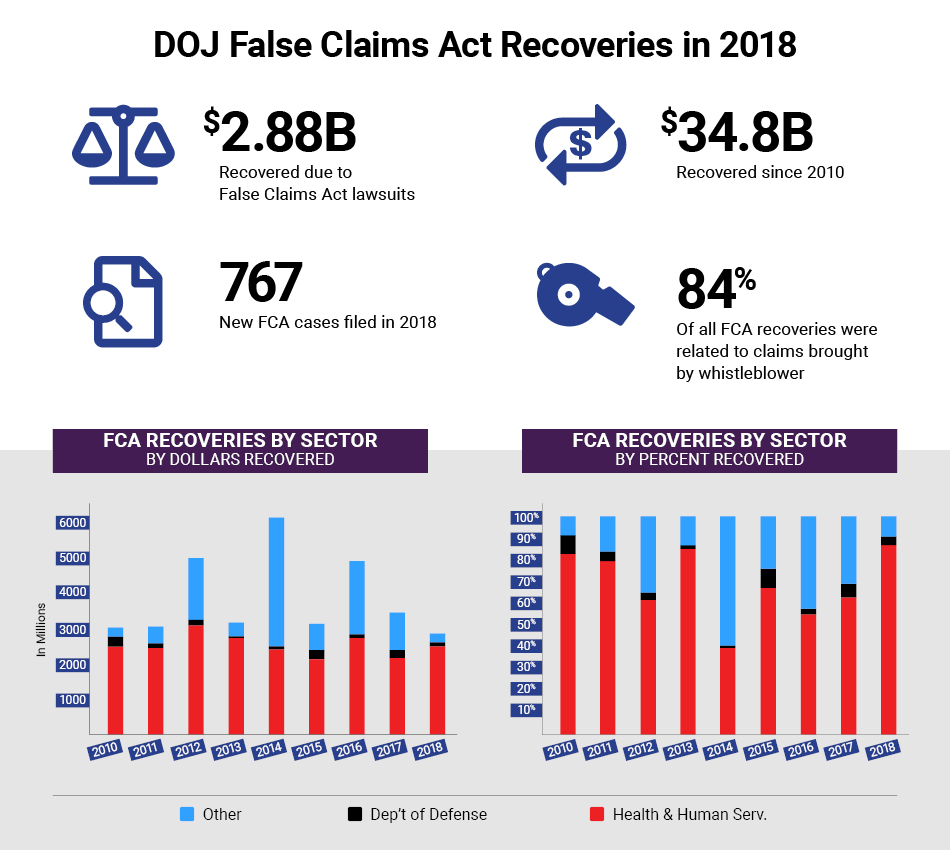 WHO YOU WILL MEET
General Counsel
Chief Legal Counsel
Assistant General Counsel
In-House Counsel
Litigators
Compliance Officers
Litigation Consultants
Outside Counsel specializing in:

False Claims Act
Fraud
Litigation
Corporate Compliance
White Collar Crime
Investigations
Government Contracts
Healthcare
Financial Services