2 days showcasing powerful women in Financial Services.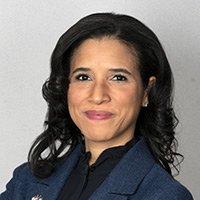 Adrienne A. Harris
Superintendent
New York State Department of Financial Services
Former Special Assistant to President Obama for Economic Policy
2023 CONFERENCE CO-CHAIRS
Marina Adams
Privacy Officer, Compliance and Ethics Director
Federal Reserve Bank of New York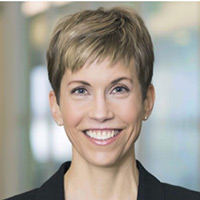 Nancy Reynolds
Managing Associate General Counsel, Employment, ESG and Chief Ethics Officer
Western Union
2023 Conference Highlights
Lessons Learned from the SVB Bank Collapse: Causes, Impact, and What's Next for Financial Services in 2023 and Beyond
Incoming Policy Changes: Exploring Significant Legislative Developments Impacting the Financial Services Industry and Influencing Your Career
Developing an Empowered Personal Brand: Guide to Building (or Rebuilding) a Personal Brand that Promotes Professional, Personal, and Community Value
Exploring the Value of Mentorship in a Virtual World: Driving Equality Forward by Supporting the Next Generation of Women through Impactful Mentorship
DEI Challenges in Financial Services: Closing the Gender and Race Gaps in Financial Services Law on the Path to Creating an Equitable and Inclusive Workplace
Spotlight on ESG in Financial Services: Understanding the SEC's Final Recommendations on ESG Disclosure Rules and Linking Pay to ESG Performance
What Should You Do? Women Leaders in Financial Services Law Share Tips for Combatting Exclusionary Practices in the Workplace, Boardroom, and Courtroom
Past Organizations in Attendance
AIG
Alloy
BitGo
American Express
Bank of America Merrill Lynch
Cantor Fitzgerald
Citadel Securities
Deutsche Bank
Federal Reserve Bank of New York
Financial Industry Regulatory Authority (FINRA)
GE Energy Financial Services
HSBC
IBM
JPMorgan Chase & Co.
MUFG Bank
Mintz Group
Morgan Stanley
New York State Department of Financial Services (NYSDFS)
PayPal
Prudential Financial
SiriusPoint
Wells Fargo
Western Union
Wyre
ABOUT THIS CONFERENCE
ACI's Annual Summit for Women Leaders in Financial Services Law is returning this June in New York City.
Network, learn from, and engage with nearly 100 women attorneys and executives from the Financial Services industry during two days of valuable discussions and insights into how the latest legal, administrative, and policy developments are impacting the Financial Services industry and leadership roles for women.
OUR MISSION
ACI's Women Leaders in Law conferences and events aim to promote diversity and increase the prominence of women in the legal community through substantive legal discussion, professional development, and woman-to-woman networking.
Our conferences provide industry specific forums for female powerbrokers to unite and discuss the substantive legal developments, challenges and opportunities facing women in their respective industries as well as provide them with the business contacts and communication and leadership skills necessary for continued success and career advancement.
Why Attend
Best practices for advancing your career path and thriving as a woman in Financial Services
How to achieve a clearer path toward equality in Financial Services
Learning the latest legal and regulatory developments impacting the Financial Services industry
Gaining tools and techniques for bolstering effective communication
Insights into empowering stories highlighting various pathways to the C-Suite
Networking with industry peers and learning from powerful women leaders in finance
CLE ACCREDITATION
Accreditation will be sought in those jurisdictions requested by the registrants which have continuing education requirements. This course is identified as non-transitional for the purposes of CLE accreditation. Learn more