Now, more so than ever before, we continue to hear dialogue about diversity and inclusion in the workplace hoping to achieve a clearer path towards equality. The financial services industry is not immune from this premise.
ACI's Women Leaders in Financial Services Law & Compliance conference will address many of the burning questions which have arisen in this dialogue.
Participate in comprehensive discussions regarding the challenges and opportunities facing women in finance and engage in conversations about the key legal developments affecting the industry. Our agenda is a mixture of both professional development and substantive legal topics designed to empower women in this space, providing the skills necessary for continued success in the financial world.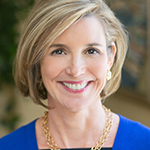 Sallie Krawcheck
CEO + Co-Founder
Ellevest
LEARN to advance and thrive in the financial services field
DELVE into the latest legal and regulatory developments impacting the different facets of the financial services industry
DEVELOP techniques for fostering effective communication
BENEFIT professionally and personally from the advice and storytelling of other women in the industry
OBTAIN tools and devise strategies for getting into the C-Suite
MEET with industry counterparts and expand your network with a focus on camaraderie
OUR PRIOR DELEGATES SAY IT BEST
ACI brought together a phenomenal group of women working in the male-dominated sector of financial services and the law. The conference struck a nice balance between presentations on substantive legal areas and topics related specifically to women in the workplace. I learned a lot and made far more connections than I have at other legal conferences.
I have never heard people rave about a conference like they did for this one.
Great opportunity to meet women in my industry, outside of my bubble.
This was a very important and much needed conference. I thought the conference was very informative, and there was great open and honest dialogue as well as wonderful networking.
The conference was fantastic! It was wonderful talking and networking with women who were open to sharing their successes and their struggles. It was also great to meet women who, whether they know it or not, will impact how I manage the rest of my career.