Virtual Conference On-Demand
Women Leaders in Life Sciences Law
Catch-up on critical information – on your own time.
ACI's 7th Annual Conference on Women Leaders in Life Sciences Law took place November 17-18, 2020. Our outstanding share insights on the most compelling topics impacting their daily lives and practices. At your convenience watch and listen to in-depth discussions and analysis on:
Politics, Policy and Projections: What Does the Current Election Climate Mean for Women and Life Sciences?
Mastering the Art of "Tooting Your Own Horn": Valuable Tools for Self-Marketing as a Woman in the Life Sciences Industry and Being Your Own Best Advocate
Increasing Our Focus on the "Inclusion" Piece of D&I: Understanding How We Can Better Include, Support and Retain Our Female Talent in the Life Sciences Industry
Artificial Intelligence and the Not-So-Distant-Future: Gaining an Understanding of How the Latest AI Capabilities are Transforming the Life Sciences Industry
Breaking Through Bias: Overcoming Gendered Perceptions in the Workplace, Boardroom and Courtroom
Brochure
Take a look at the Agenda and Speakers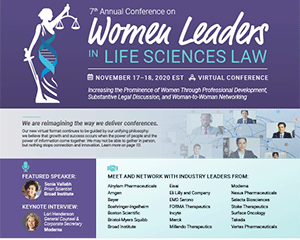 Download a Complimentary Webinar!
How COVID-19 is Transforming the Workplace: Insights on "Return to Work," Adapting to the "New Normal" and More
Download Recording