Download the 2023 Event Guide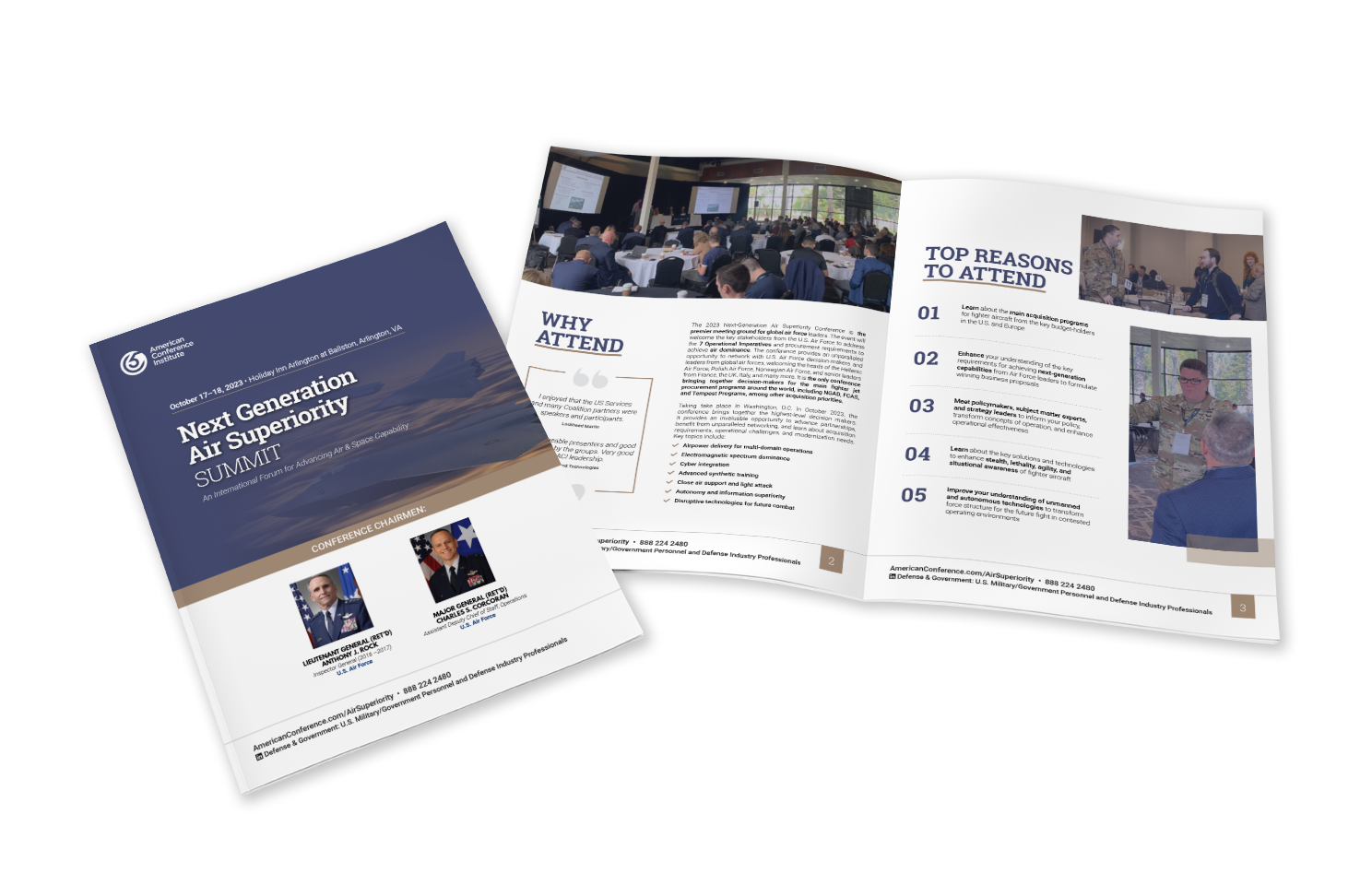 Gain access to:
Full session details on the agenda
Speaker list
Networking opportunities
Exhibitor and sponsorship opportunities
How to get in touch with us
Fill in the form to download the full brochure
100+
Attendees 20+
Speakers 2 Days of
Networking
Top Reasons Why You Should Attend
1
A one-of-a-kind forum offering delegates accessibility to meet key DoD/Gov, Industry, and leading experts from Academia that are leading the way in Air Dominance
2
Learn about the main acquisition programs for fighter aircraft from the key budget-holders in the US and Europe
3
Multiple Interactive Panel Sessions, American Conference Institute designs more engaging panels for delegate engagement than anyone in our industry
4
Outstanding scheduled networking sessions and luncheons to meet & mingle while building meaningful relationships with peers in these incredibly high growth area of defense technologies
5
Sponsorship and Exhibitor Packages abound, allow our team to tailor your product or demo display to our delegation and guest speakers
How We Will Use Your Data
We will process your personal data in order to provide you with the information that you have requested, and to share information about our events and products, deemed relevant to you, in accordance with our Privacy Policy. If you have any questions about how we will use your personal data, or our privacy policy, please contact [email protected].
American Conference Institute has not authorized the use or sale of its list by any outside organization. Anyone claiming to have our list is not legitimate.
If you decide that you no longer wish to receive information about our events and products, you can contact us any time at [email protected]. Each of our marketing communications (whether by email, phone, facsimile, post or SMS) will also include an appropriate and easy way for you to unsubscribe.
American Conference Institute, Two Park Avenue, 20th Floor, New York, NY 10016 USA T: 1-888-224-2480 E: [email protected]