Virtual Conference On-Demand
Biosimilars & Innovator Biologics
Catch-up on critical information – on your own time.
The 11th Summit on Biosimilars & Innovator Biologics took place September 23—24, 2020. Over the course of 2 days, this exciting event boasted 40 leading speakers and exclusive keynotes from the FTC, USPTO, and FDA. This one-of-a-kind event is loaded with legal, regulatory and commercial strategies for the innovator and biosimilars marketplace.
Recreate the conference experience as if you were viewing the event live through our conference on demand option. With a simple keystroke, you will have access to 13 sessions of in-depth and timely information on the latest legal and regulatory developments impacting the biosimilars industry.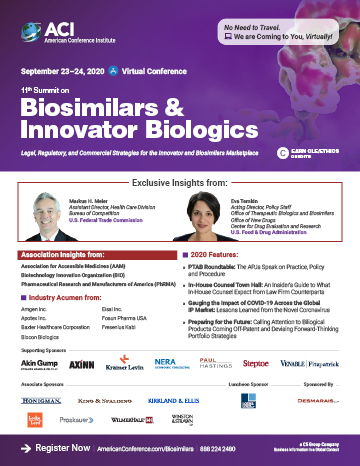 Take a look at the Agenda and Speakers
Gauging the Impact of COVID-19 Across the Global IP Marketplace: Lessons Learned from the Novel Coronavirus
FREE DOWNLOAD