CONFERENCE FORMAT CHANGE
We're Going Virtual!
Due to social distancing and large group gathering restrictions, ACI's Fraud, Asset Tracing & Recovery Miami has changed format from a live, in-person event to an interactive, virtual conference.
The conference will follow a similar schedule and agenda as originally planned.
"TOUR DE FORCE" MIAMI 2020: YOU'RE INVITED
The 9th Annual Fraud, Asset Tracing & Recovery Miami is the quintessential gathering for practitioners located offshore and across the globe. Unlike other events, this programme is your best opportunity to enhance your network, and engage in worthwhile discussion of "war stories" and best practices. Meet and learn from true experts, who have handled some of the most complex, multi-jurisdictional commercial fraud, insolvency and asset recovery cases in recent memory.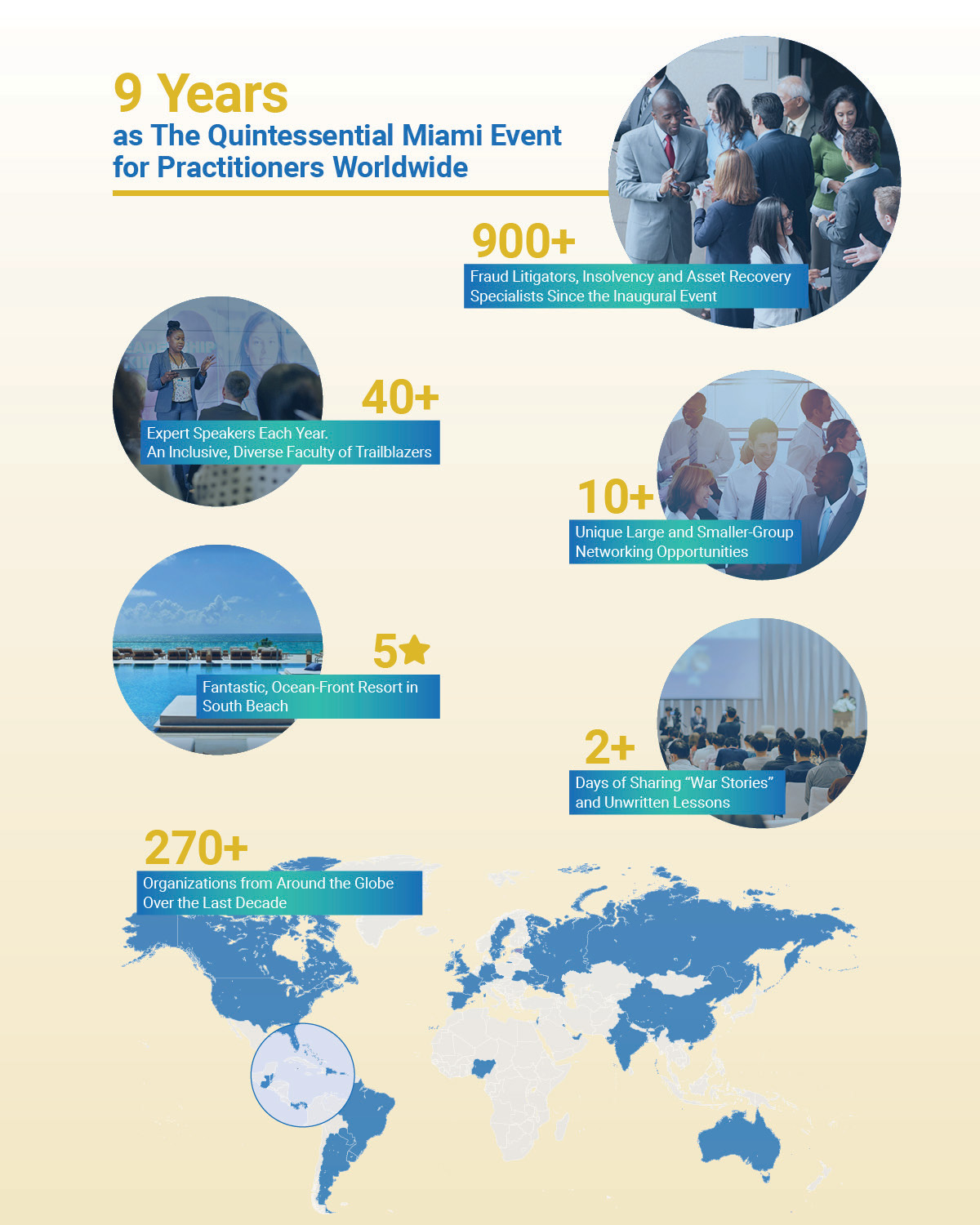 ---
---
THIS IS WHY C5 DOES WHAT IT DOES
It was wonderful. The sessions were informative, and the conference presented an excellent opportunity to network with experts in fraud and asset recovery.

Ashanti Martin, Balderamos Arthurs LLP (Belize)
Great event, with great experts.

Guido Rodriguez, Fiscalia General de Cuentas (Panama)
Great venue, great variety of talks and attendees.

Richard Morgan QC, Maitland Chambers (UK)
The organisation was first class and the conference ran extremely smoothly. The networking opportunities were superb.

Louise McNamee, Baker and Partners (Jersey)
Well organized and an excellent opportunity to network. Will definitely recommend to others.

Pedro Serrano Espelta Marval, O'Farrell & Mairal (Argentina)
Really interesting collection of professionals and experts bringing their unique perspectives on important and cutting edge topics.

Edward O'Callaghan, Clifford Chance (USA)
The reason I come to C5 is the quality of the panels and the quality of the speakers, the topics are always fresh and new, it is the best asset recovery conference in the world, bar none.

Ed Davis, Sequor Law (USA)
Flowless organisation. Excellent location of the hotel and good service.

Benjamin Borsodi, Schellenberg Wittmer (Switzerland)
The conference was a great success.

Ravinder Thukral, Brown Rudnick LLP (UK)
10th Jubilee edition of International Disputes and Asset Recovery involving Soviet Union Parties