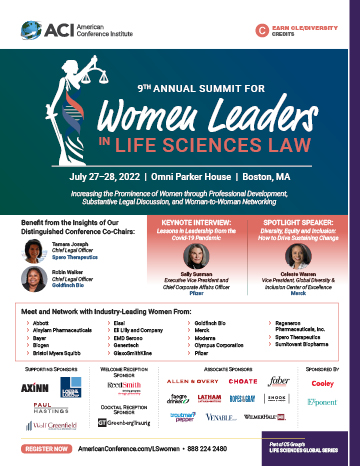 Download 2022 Brochure
Flip through our 2022 conference brochure and discover what's new this year.
VIEW FULL PROGRAM
Pre-Conference Workshops
Jul 26, 2022
9:00am – 12:30am
Speakers


Marilyn A. Moberg
Partner
Reed Smith LLP
Jul 26, 2022
1:30pm – 5:00pm
Speakers


Elena Rossano
Senior Counsel, Global Commercial Operations
Amgen
Day 1 - Wednesday, July 27, 2022
| | |
| --- | --- |
| 7:15 | |
| 8:15 | |
| 8:45 | YEAR IN REVIEW |
| 10:15 | KEYNOTE INTERVIEW |
| 11:00 | Morning Networking Break |
| 11:30 | |
| 12:15 | Networking Luncheon |
| 1:15 | ATTAINING SUCCESS IN THE HYBRID WORKPLACE |
| 2:15 | |
| 3:00 | Afternoon Networking Break |
| 3:15 | |
| 4:15 | |
| 5:00 | |
| 5:30 | Day 1 Adjourns to Networking Cocktail Reception |
Day 2 - Thursday, July 28, 2022
| | |
| --- | --- |
| 7:30 | Continental Breakfast |
| 8:30 | |
| 9:00 | FOCUS ON DIVERSITY & INCLUSION - SPOTLIGHT SPEAKER |
| 9:30 | Audience Polling |
| 10:15 | Morning Networking Coffee Break |
| 10:30 | |
| 11:15 | |
| 12:15 | Networking Luncheon |
| 1:15 | THE GLOBAL LIFE SCIENCES STAGE |
| 2:00 | |
| 2:45 | Afternoon Break |
| 3:00 | |
| 3:45 | |
| 4:00 | Conference Concludes |
Day 1 - Wednesday, July 27, 2022
7:15

New to the conference this year? Or a returning attendee looking to make new connections? Take advantage of the opportunity to join one of our breakfast break-out tables where an esteemed Advisory Board member will facilitate attendee introductions and the sharing of information through a fun Q+A exercise. Kick off the conference by making connections that you can build upon during the remainder of the event and beyond.

8:15

Tamara Joseph
Chief Legal Officer
Spero Therapeutics

Robin Walker
Chief Legal Officer
Goldfinch Bio

In this opening session, our conference co-chairs will kick off the event with an interactive game of "2 truths 1 lie." You will then break into small groups at your tables as our conference.

8:45

YEAR IN REVIEW

Aileen M. Fair
Senior Corporate Counsel
Litigation & Government Investigations |Antitrust & Competition Law
Bristol Myers Squibb

Deborah A. Logan
Associate General Counsel
EMD Serono, Inc.

Sapna Palla
Partner
Allen & Overy LLP

Jeny Maier
Partner
Axinn, Veltrop & Harkrider LLP

Honorable Teresa Rea
Partner
Crowell & Moring LLP
(Former Acting Director of the United States Patent and Trademark Office)

Kellie Combs
Partner
Ropes & Gray LLP

Join us for a high-level discussion of the most influential legal, regulatory, and political developments affecting all facets of the life sciences industry. Explore the impact that these developments will have on your future practices and careers in the year ahead and beyond. This panel will discuss topics including:

What we can glean from key agency developments?

How new leadership at the FDA, evolving approval standards, and the Administration's New Intended Use Regulation are impacting the industry
Anticipating how new leadership appointments at the PTO will impact life sciences innovation

Navigating recent dramatic antitrust developments transforming the life sciences industry
How the nomination of Judge Ketanji Brown Jackson to the Supreme Court may impact future decisions affecting the life sciences industry
Understanding how anticipated new policies from the Biden Administration are likely to dramatically affect reimbursement, pricing, and innovation of prescription drugs
What implications will recent proposed amendments to Rule 702 (Daubert) have on the future of drug and device product liability litigation?

10:15

KEYNOTE INTERVIEW

Sally Susman
Executive Vice President and Chief Corporate Affairs Officer
Pfizer

11:00

Morning Networking Break

11:30

Amy Altshul
Senior Vice President
Head of Legal for Global R&D, Global Oncology and Global Commercial Activities
GlaxoSmithKline

Sheila Connor
Vice President and Chief US Counsel
Biogen

Prajakta Sonalker
Counsel
Venable LLP

Brenda Herschbach Jarrell
Partner
Chair, Life Sciences Group
Choate Hall & Stewart LLP

As a woman in today's highly competitive life sciences market, building a strong personal brand is not always enough. Leveraging your brand's unique value to stand out from the crowd is an essential step to making you a viable candidate for upward mobility within the industry. This panel will help you develop strategies for:

Harnessing your superpower: understanding what makes you unique and learning to articulate it
Positioning yourself in a way that differentiates you from your peers
Building your brand in a way that demonstrates your deep understanding of your client
Learning to become recognized as a thought leader in the life sciences arena and expanding your market presence
Identifying opportunities for growth within the life sciences legal market at large as well as in your organization

12:15

Networking Luncheon

1:15

ATTAINING SUCCESS IN THE HYBRID WORKPLACE

Larissa A. Eustice
Senior Assistant General Counsel
Bayer

Sheea Sybblis
Assistant General Counsel & Practice Group Leader
Genentech

Joy Dowdle
Partner
Paul Hastings LLP

Lisa Pirozzolo
Partner, Co-Chair, IP Litigation Practice Group
Wilmer Cutler Pickering Hale and Dorr LLP

As a result of the pandemic, many of us have learned to adopt the concept of "work-life integration," which as opposed to work-life "balance," largely abandons boundaries between work and life and instead embraces the notion that the two must coexist in harmony. This panel will tackle key questions such as:

What will work-life integration look like now that many of us will be shifting into a hybrid virtual/in-person work environment?
How can we strive to achieve the best of both worlds, and avoid facing a "worst of both worlds" scenario?
How have client expectations shifted due to the pandemic and what will expectations look like in a future hybrid work model?
How is virtual work creating a war for talent across the nation and will we ever be able to go back to the way things were pre-pandemic?
How can women attain balance and best manage their time in a virtual or hybrid work model?

Let your voice be heard in this unique "open floor" session, designed to give attendees an opportunity to grab the microphone and add to the dialogue.

2:15

Diane E. Lifton
Senior Vice President, Legal
Sumitovant Biopharma, Inc.

Heather J. DiPietrantonio, PhD
Shareholder
Wolf, Greenfield & Sacks, P.C.

Melanie Rupert
Partner
Paul Hastings LLP

Colleen Tracy James
Partner
White & Case LLP

With hybrid remote work looking like the way of the future, there is a growing concern that the physical distance will inevitably continue to reduce practical experiences for junior lawyers at the start of their careers.

This panel will address topics including:

Overcoming a training deficit of junior attorneys as we emerge from the pandemic: How leadership can make up for limited opportunities by junior lawyers to observe senior lawyers interacting with clients/outside counsel or appearing in court
Taking deliberate measures to ensure that the junior generation will be adequately prepared for the passing of the torch by their predecessors
Understanding how junior attorneys can play an active role in building their presence, reputation and skill set in a hybrid world

3:00

Afternoon Networking Break

3:15

Donna M. Meuth
Associate General Counsel, Intellectual Property
Eisai

Regina Nelson
Partner
Reed Smith LLP

Chelsea A. Loughran
Shareholder
Wolf, Greenfield & Sacks, P.C.

Alison Hanstead
Partner
White & Case LLP

In this lightning round session, our panelists will walk you through the top 10 cases impacting the life sciences industry in the last year and their key implications for your future practice.

Cases to be discussed will include:

GlaxoSmithKline LLC v. Teva Pharmaceuticals USA, Inc., 7 F.4th 1320 (Fed. Cir. Aug. 5, 2021)
Genus Medical Technologies LLC v. United States Food and Drug Administration, No. 20-5026 (D.C. Cir. 2021)
In re: Zofran (Ondansetron) Prods. Liability Litig., 2021 WL 2209871 (D. Mass. June 1, 2021)
Biogen International GMBH v. Mylan Pharmaceuticals Inc., Appeal No. 2020-1933 (Fed. Cir. Nov. 30, 2021)
Regents of Univ. of California v. Broad Institute, Inc., Patent Interference No. 106,115 (PTAB Feb. 28, 2022)

4:15

Sonia Chen Arnold
Sr. Director, Assistant General Counsel – Consumer/Customer Operations
Eli Lilly and Company

Kate Middleton
Partner, Co-Lead of Digital Health Artificial Intelligence Team
Faegre Drinker Biddle & Reath LLP

Camila Tobón
Partner
Shook, Hardy & Bacon LLP

Wanda French-Brown
Partner
Loeb & Loeb LLP

Assessing the latest innovations and new developments in tech and AI affecting drugs, biologics, devices and diagnostics
Analyzing the host of complex legal challenges created by the latest innovations and the new and emerging regulatory landscapes aiming to govern these new technologies
Understanding the types of innovative licensing and collaboration agreements that are required to unlock the full potential of these new products
Exploring recent trends in IP disputes resulting from the novel form of many emerging products

5:00

Take advantage of the opportunity to gather informally with a smaller group of conference attendees who share a common interest or area of expertise. Get the chance to closely examine a topic such as value-based drug pricing, or avoiding the latest data protection minefields—or share thoughts on a more personal topic such as the proliferation of social media and "supermom culture." Network with like-minded female peers and exchange ideas on a mutually shared topic of interest prior to kicking off our Cocktail Reception. (We will request suggestions for BoF tables in advance of the event, and topic sign-up sheets will be posted during the morning networking break).

5:30

Day 1 Adjourns to Networking Cocktail Reception
Day 2 - Thursday, July 28, 2022
7:30

Continental Breakfast

8:30
9:00

FOCUS ON DIVERSITY & INCLUSION - SPOTLIGHT SPEAKER

Celeste Warren
Vice President, Global Diversity & Inclusion Center of Excellence
Merck

9:30

Audience Polling

Gael Tisack
Global Head of Intellectual Property
Olympus Corporation

Sara Thompson
Shareholder
Chair, Pharmaceutical, Medical Device & Health Care Litigation Practice
Greenberg Traurig LLP

Tiffany R. Moseley
Partner
Loeb & Loeb LLP

We've all been there. Perhaps you've had an idea appropriated by a male colleague, been left out of the "meeting after the meeting," or watched a female colleague be excluded from a client interaction. This panel of senior level women executives will lead a polling exercise of "what would you do" – and share insights on:

How they've personally handled exclusionary practices in their own workplace
How women in the life sciences can work together to transform culture, policies and programs that will result in more equity and opportunity for women
How women in leadership roles can create opportunities for female employees to talk about their experiences of marginalization and discrimination and set the standards for behaviors in their own organizations

10:15

Morning Networking Coffee Break

10:30

Alana Wexler
Senior Counsel
Amgen

Ronni Fuchs
Partner
Troutman Pepper

The life sciences industry has seen a growing focus on patient diversity in clinical trials in recent years, with the COVID-19 pandemic shining an even brighter spotlight on the importance of achieving diverse patient recruitment. This panel will share critical insights on:

Analyzing the obstacles that continue to stifle patient diversity in clinical trials as well as the implications and consequences this has for patients
Identifying what industry can do in practice to improve diversity in clinical trials and overcome operational challenges to achieving diverse patient inclusion in clinical research
Understanding the different roles of sponsors, patients and investigators in conducting more equitable clinical trials
Examining the latest FDA guidance for drugmakers and medical device manufacturers regarding plans for making their studies more inclusive and setting goals for more diverse trial participant enrollment and retention

11:15

Shannon Thyme Klinger
Chief Legal Officer
Moderna

Lorie Foster
Division Counsel
Abbott

Lisa Jakob
Managing Counsel, Trademark Group
Merck

As the world starts to adjust to life after the COVID-19 pandemic, we have seen that life sciences companies are focusing even greater attention on developing and strengthening their environmental, social, and corporate governance (ESG) initiatives. This panel will shed key insights on the role of female leadership in furthering ESG efforts, as well as:

Understanding how to embed ESG within your organization's business to make it more financially and environmentally sustainable in the longer term
Operating under demonstrated ESG principles in a way that makes your company more attractive to investors, regulators, employees, and customers
Strategies for assessing, improving, and creating new and effective ESG practices and initiatives related to:

Environmental impact
Fostering diversity and inclusion initiatives
Access to healthcare and medicine pricing
Clinical trial practice, product quality and patient safety
Business ethics, integrity, and compliance
Human capital management
Supply chain management

12:15

Networking Luncheon

1:15

THE GLOBAL LIFE SCIENCES STAGE

Dorothy Flower
Partner
Head of Medical & Life Sciences
Reynolds Porter Chamberlain (RPC)

Carolina del Río
Partner
Dentons

This panel of international female life sciences leaders from the UK, Canada, Asia and South America will shed light on growth opportunities for women in the international life sciences legal sector, as well as key considerations for US attorneys looking to enter different international markets.

2:00

Deirdre Parsons
Senior Director, Global Public Policy & Government Relations
Alnylam Pharmaceuticals

Lily Vakili
Principal
Faber Daeufer & Itrato PC

Considerations for cross-border clinical trials access and management
Addressing current and emerging CMC and supply chain challenges in the development and manufacturing of drug products
Intellectual Property
Assessing the latest developments in international IP rights as well as anticompetitive concerns




Drug Commercialization and Pricing

Examining the latest strides being taken by Canada and the EU in connection to drug pricing and implications for cross-border transactions
Survey of how different countries are currently treating the regulation of prescription drug advertising and how they contrast to the US




South American and Asian Markets

Analyzing the evolving regulatory landscape in China: how recent changes to China's pharma IP protection laws, vaccine laws and data privacy laws are impacting the way the life sciences industry is working there
Addressing the latest life sciences legal developments in South America, and major changes to the regulatory approval system for biosimilars, medicines and medical devices

2:45

Afternoon Break

3:00

Lisa LeCointe-Cephas
SVP, Chief Ethics and Compliance Officer
Merck

Katrina Long
Director, Corporate Counsel
Regeneron Pharmaceuticals, Inc.

Terra Reynolds
Partner
Latham & Watkins LLP

Rebecca Clegg
Attorney
Axinn, Veltrop & Harkrider LLP

Studies show that women with professional guides are five times more likely to advance in their workplaces. Join this panel of female leaders in life sciences law as they share:

Personal stories of the best lessons they've learned from their own mentors
Experiences with a mentee that have helped them in their own job performance and job satisfaction
Advice they would impart on the next generation of women preparing to lead in this space

3:45

As we wrap up the event, the conference co-chairs will share insights on key takeaways from the last two days. As we say cheers to a great event and celebrate one another with a glass of bubbly, attendees will write down one personal takeaway and how it could be used to improve her work or life. They will each then pass their paper to the woman to their right who will share the takeaway with the table, followed by an opportunity for group feedback and discussion.

4:00

Conference Concludes
In-Person Workshop A — Think Tank on Devising Your
5-Year

Plan for Continued Success: Strategic Advice from Senior Level Women Executives in the Life Sciences Legal Industry on Proactively Taking the Next Steps in Your Career

Marilyn A. Moberg
Partner
Reed Smith LLP
What is it about?
Don't miss the chance to be part of this think tank on how to advance your life sciences career. Whether you are seeking an in-house, law firm or government position, an internal promotion or partnership, a board or C-Suite position, or to move from a seat at the boardroom table to the head of the table—this session will shed light on making and executing a plan to achieve your goal. Our esteemed workshop panelists will share their experiences on their personal roads to leadership, and will provide invaluable insights on:
Identifying your highest -priority career goals and plans for growth, as well as how to make strategic, proactive decisions to get to where you ultimately want to be
Determining what experience you might lack and planning for how to get it
Soliciting honest feedback on your strengths and weaknesses as a leader
Stepping outside your comfort zone and pushing your boundaries to best enhance your skill set
Developing and sustaining sponsorship and mentor and mentee relationships with male and female advocates and supporters
Factoring external commitments and responsibilities into your decision on where you want to be in your 5-year trajectory
In-Person Workshop B — "Network Like a Leader" Master Class: Mastering Networking Skills and Behaviors to Drive Success

Elena Rossano
Senior Counsel, Global Commercial Operations
Amgen
What is it about?
Networking is important for everybody – particularly for women who are interested in becoming a leader in their organization or industry. A carefully crafted and well-maintained professional network could be one of the most powerful tools for career advancement in the life sciences. Understanding how to use your network to become more effective and achieve your career goals is key. This skills-driven master class will help you:
Understand how women need to approach professional networking differently than men
Maximize the value of networking functions and opportunities
Start worthwhile conversations by asking the right questions and embrace opportunities to make yourself memorable
Learn how to diversify your network: build relationships with individuals from a range of organizations and industries to gain a competitive edge
Leverage your professional networks and relationships to identify career opportunities
Utilize your networks to maximize the benefits of your existing role and to anticipate strategic change within your organization
Use social media strategically to network effectively