ACI's highly anticipated Proficiency Series provides true immersion in
Hatch-Waxman

and BPCIA Essentials with the objective of becoming proficient in three weeks.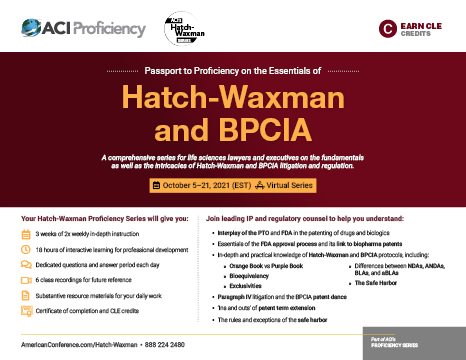 Download 2021 Brochure
Flip through our 2021 conference brochure and discover what's new this year.
View Full Program
DAY 1

MODULE 1
Tuesday, October 5 • 1:00pm–4:15pm EST
1:00pm

Co-Chairs' Opening Remarks
1:15pm

Key Agencies Overview: Understanding the Jurisdiction and Interplay of the FDA and PTO in the Patenting of Drugs and Biologics (75 minutes)

Understanding the respective roles and interplay of the FDA and PTO in the patenting and approval of drugs and biological products FDA
FDA
FDA overview and organization

Department of Health and Human Services and the Commissioner
The 5 FDA Centers and the Office of Regulatory Affairs and their functions

CDER (Drug) and CBER (Biologic) overview
Defining the scope of the FDA's jurisdiction with respect to drugs and biologics
Examining how the FDA exercises its jurisdiction:

Rule making
Product decisions
Enforcement
Informal mechanisms

Reviewing the laws that the FDA enforces relative to the patenting of drug and biological products

Food Drug & Cosmetic Act
Prescription Drug Marketing Act
Public Health Services Act

Hatch-Waxman

Act
Other applicable laws

Defining drugs and biologics
Labeling: when is a drug a drug and not a biologic
Working with the FDA

Administrative Procedures Act
formal and informal dispute resolution mechanisms
The PTO
Review of the organizational structure of the PTO
Patents: overview of drug and biological products that may be patented
Who may apply for a patent?
What are the requirements for patentability?
Trademark

vis-à-vis

drugs and biologics
2:30pm

Break
2:45pm

Identifying and Comprehending Pre-Commercialization Concerns Relative to Small Molecules and Biologics (60 minutes)
The current
pre-commercialization

landscape:
Reviewing the types of products that pharmaceutical, biotechnology and biopharmaceutical companies seek to develop now
Identifying impediments – through patent or regulatory restraint – which prevent these companies from pursuing the development of the desired product

FDA hurdles that may not clear even if all patent and other IP hurdles are met

Techniques for analyzing the value the product adds to the company's portfolio, and methods for proving value
Assessing the competition and analyzing potential therapeutic interchange considerations
Considerations in light of Health Care Reform:
Understanding how the introduction of

follow-on

biologics will change the commercial landscape
Examining the role of the Center for Medicare and Medicaid Services (CMS) in the approval process and its impact on R&D

the connection between CMS approval and commercial viability via government payor systems and rebates
comparative effectiveness
3:45pm

Questions and Answers
4:15pm

Day One Adjourns

Anne Shea Gaza
Partner
Young Conaway Stargatt & Taylor, LLP (Wilmington, DE)

Gregory A. Morris, Ph.D.
Leader, Life Sciences Intellectual Property Litigation Practice Group
Honigman LLP

James Matthew Gould
Counsel
Ratner Prestia

Seth A. Mailhot
Partner
Husch Blackwell LLP

Alexander Varond
Partner
Goodwin Procter LLP

Chad A. Landmon
Partner
Axinn, Veltrop & Harkrider LLP (Hartford, CT)
DAY 2

MODULE 2
Thursday, October 7 • 1:00pm–5:00pm EST
1:00pm

Co-Chairs' Opening Remarks
1:05pm

Exploring the Link between the FDA Approval Process and the Patenting of Drugs and Biologics (70 minutes)
Rx Drugs (new drugs)
Identifying the application process for the approval of a new drug, i.e., small molecule, new chemical entities, etc.
NDA (New Drug Application): definition, contents and regulatory overview
INDA (Investigational New Drug Application) aka "IND"

how does it differ from an NDA?

Accelerated approvals

defining eligibility criteria for accelerated approval and priority reviews
what portions of approval submissions might FDA release and when?

Using advisory committees in the approval process
Biologics
How does the approval process for a biologic differ from that of a drug?
BLA (Biological Licensing Application): application and filing

how does a biologic differ from a drug?
which products require BLAs instead of NDAs?

Why is it a "license", rather than an "approved application"?
2:15pm

Break
2:30pm

Small and Large Molecule Drug Patents and Other Related IP Protections and Mechanisms (60 minutes)
Patent Protections for Drugs and Biologics
Summarizing the patenting process for drugs and biologics
Strategies for building patent protection for drugs and biologics
Applying for and achieving extension of patent term for time spent in the drug approval process
Patent Term Extension ("PTE") / Patent Term Adjustment ("PTA") synopsis
Reviewing the 271(e)(1) "safe harbor" provision
Distinguishing the patenting process for drugs from that of biologics
Trademark, Trade Name, and Trade Dress Protections
Overview of selecting a brand name for a proposed drug product
Roles of the USPTO and FDA in the drug naming process
Identifying the PTO and FDA clearances necessary for trade name/trademark approval on your product
Understanding the importance of trade dress
How does the branding process work for your product
3:30pm

The Orange Book: Listings, De- Listings and Other Matters of Interest (60 minutes)
What is the Orange Book, what does it contain, and why is it orange?

The FDA's publication on Approved Drug Products with Therapeutic Equivalence Evaluations

Understanding the role of Orange Book listings in patent life cycle management and patent portfolio management
Exploring the continuing dilemma of which patents should be listed, delisted, and held in reserve
Examining the FDA's position on not listing a patent
Overcoming challenges associated with listing patented information in the product label and indications discovered in clinical testing

incorporating long term patent listing strategies into label negotiations with the FDA
the ongoing skinny labeling and

carve –out

conundrum

Assessing the scope of potential Orange Book listing controversies relative to:

device patents

product-by-process

claims
metabolites; polymorphs; intermediates
patents on unapproved uses
4:30pm

Questions and Answers
5:00pm

Co-Chairs' Closing Remarks and Week One Adjourns

Krista Hessler Carver
Partner
Covington & Burling LLP

Aaron Lukas Ph. D.
Member
Cozen O'Connor

Daniel M. Silver
Partner
McCarter & English, LLP

Stephan B. Maebius
Partner
Foley & Lardner LLP

Vishal C. Gupta
Partner
Steptoe & Johnson LLP

Gary L. Veron
Partner
Hogan Lovells US LLP

Quintin Cassady
Attorney, Former Vice President and General Counsel
Galderma Laboratories (Fort Worth, TX)
DAY 1

MODULE 3
Tuesday, October 12 • 1:00pm–5:00pm EST
1:00pm

Co-Chairs' Opening Remarks
1:15pm

The Hatch-Waxman Landscape: ANDAs, and Exclusivities (90 minutes)
Overview of

Hatch-Waxman

and reforms
Comparing the NDA, 505(b)(2), and ANDA (Abbreviated New Drug Application) drug approval routes

Reviewing fundamentals of applications

Examining ANDA Standards for approval and the concepts of sameness and bioequivalence
Special considerations: local acting drugs, labeling carve outs and other nuances

Understanding the role of the Orange Book in the drug approval process
Listings,

de-listings

and use codes

Market exclusivities and protection
Identifying the different types of exclusivities

Regulatory exclusivity (FDA)/ (data) exclusivity

NCE (new chemical entity)

5 years data exclusivity

indication (new indication or use)

3 years marketing exclusivity

NDF (new dosage formulation)
ODE (orphan drug exclusivity)
PED (pediatric exclusivity)
2:45pm

Break
3:00pm

Paragraph IV Disputes and Litigation (90 minutes)
Exploring the ANDA Paragraph IV Certification, and response to Notice Letters

Pre-suit

considerations

Initial pleadings
Multiple ANDA filers
Declaratory judgments

Typical Paragraph IV litigation scenarios -hypotheticals

30-month

stay; patent extensions; ANDA filer exclusivity (180 day)

Preparing for parallel litigation before the PTAB
Hot buttons in

Hatch-Waxman

litigation

Settlements
Damages

Double-patenting
4:30pm

Questions and Answers
5:00pm

Day One Adjourns

Sara Koblitz
Counsel
Hyman, Phelps & McNamara, P.C.

Gregory A. Morris, Ph. D.
Leader, Life Sciences Intellectual Property Litigation Practice Group
Honigman LLP

Bindu Donovan
Partner
Desmarais LLP

Anne Shea Gaza
Partner
Young Conaway Stargatt & Taylor, LLP
DAY 2

MODULE 4
Thursday, October 14 • 1:00pm–4:45pm EST
1:00pm

Co-Chairs' Opening Remarks
1:05pm

Biosimilars: The BPCIA, aBLA Overview (85 Minutes)
Overview of biosimilar legislation and regulations, i.e., Biologics Price Competition and Innovation Act of 2009 (BPCIA)
Understanding the rationale for safety and efficacy concerns surrounding second generation biologics or aBLAs
Exploring the concepts of "biosimilarity" or "interchangeability"
FDA rulemaking and guidance relative to biosimilars
Other points for consideration: substitution, naming, patents, and additional nuances
The Purple Book
Examining biosimilar exclusivities
2:30pm

Break
2:45pm

"Shall We Dance" — Weighing the Pros and Cons of Participating in the BPCIA Patent Dance (60 Minutes)
Deciding when to provide notice of commercial marketing
Addressing contentions and controversies in the aBLA information exchange
Understanding how biosimilar applicants can command the stride of litigation under the BPCIA
Evaluating what is "manufacturing information"
Appreciating the limitations on declaratory judgment actions
Analyzing the biosimilar and innovator perspectives when deciding whether to dance
3:45pm

The Purple Book (30 minutes)
What is the purple book and what does it contain?

Lists of Licensed Biological Products with Reference Product Exclusivity and Biosimilarity or Interchangeability Evaluations

FDA's interpretation of what is included in the list
Understand the obligations of Reference Product sponsors under Section 325 ("Biological Product Patent Transparency"), 'The Purple Book Act'
Evaluating how new requirements of including patent information will impact the 'patent dance'
Appreciating the differences in the Orange Book and Purple Book listing
Addressing how new information requirements will affect business strategies
4:15pm

Questions and Answers
4:45pm

Co-Chairs' Closing Remarks and Week Two Adjourns
Susan Krumplitsch
Partner
DLA Piper

Jovial Wong
Partner
Winston & Strawn LLP

Christopher M. Bruno
Partner
McDermott Will & Emery

Scott A. Cunning
Partner
Parker Poe Adams & Bernstein, LLP (Washington, DC)

Leslie-Anne Maxwell, Ph. D.
Partner and Chair of the Pharmaceutical Patent Practice
Canto Colburn LLP
Jeffrey D. Smyth
Partner
Finnegan, Henderson, Farabow, Garrett & Dunner LLP
DAY 1

MODULE 5
Tuesday, October 19 • 1:00pm–5:00pm EST
1:00pm

Co-Chairs' Opening Remarks
1:15pm

In-Depth Drill-Down on Bioequivalence, "Same Active Ingredient", and Interchangeability (60 minutes)
Defining bioequivalence in drugs and biologics
What an

ANDA-filer

must demonstrate for bioequivalence?

bioequivalence and dosage form – oral tablet/capsule, injection, nasal sprays, topical

How does bioequivalence relate to patents?

patenting of bioequivalence characteristics – extended-release drug products
bioequivalence v. Doctrine of Equivalents – what is the difference?
arguments about bioequivalence raised in Paragraph IV patent litigation

infringement, copying (

non-obviousness

)
2:15pm

Break
2:30pm

An In-Depth Look at 180- Day Exclusivity (60 Minutes)
Understanding

180-day

generic market exclusivity under the

Hatch-Waxman

Act

what are the qualifying criteria for exclusivity?

How can an ANDA applicant really determine who is "

first-to-file

" and win

180–day

exclusivity?
Identifying triggers for the running of the

180–day

exclusivity period
Deciphering the FDA's new interpretation of pre- and post- MMA

180–day

exclusivity

what are the implications of this interpretation for products having ANDA's filed prior to the enactment of the MMA?

Exploring the interplay between the

30-month

stay and

180–day

exclusivity
Forfeiture provisions: identifying circumstances under which exclusivity is forfeited

Other circumstances that may trigger the loss of

180–day

exclusivity

When can the

180–day

exclusivity period be transferred to another ANDA applicant?
Evaluating when the

180–day

exclusivity period can be relinquished, and exploring the consequences defining "shared exclusivity"
3:30pm

Comprehending the Intricacies of

Non-Patent/ Regulatory

Exclusivity (60 Minutes)
Understanding which drug products are eligible for regulatory exclusivity

small biologics v. biologics

The different modes and methods of regulatory exclusivity (

non-patent

)

NCE (new chemical entity): 5 years marketing exclusivity/5 years data exclusivity
indication (new indication or use): 3 years marketing exclusivity
NDF (new dosage formulation)
ODE (orphan drug exclusivity)
PED (pediatric exclusivity)

FD&C 505b2 (alternate pathway to ANDA) aka paper NDA
What role does the FDA play in regulating these modes of exclusivity?
When are each of these methods sought?
Using trade dress as means of exclusivity
4:30pm

Questions and Answers
5:00pm

Day One Adjourns

Jeffrey Alan Hovden
Partner
Robins Kaplan LLP

Omar Jabri
Senior Director, Global Generic IP
Apotex

Lara E. Fitzsimmons
Partner
Rakoczy Molino Mazzochi Siwik LLP

David B. Abramowitz
Partner
Locke Lord LLP
Fabian M. Koenigbauer
Counsel
Baker & Hostetler LLP
DAY 2

MODULE 6
Thursday, October 21 • 1:00pm–4:45pm EST
1:00pm

Co-Chairs' Opening Remarks
1:05pm

Assessing Patent Protections Afforded Under the Safe Harbor (75 Minutes)
Exploring the safe harbor of the

Hatch-Waxman

Act

35 USC § 271(e)(1)

Understanding the safe harbor's scope of protection for otherwise infringing activities
Examining the safe harbor protections afforded to research tool patents
Identifying safe harbor protections relative to:

basic R&D
new product screening
optimization

pre-clinical

testing

post-approval

testing
2:15pm

Break
2:30pm

Examining Pharmaceutical Patent Extensions: Patent Term Adjustment and Patent Term Restoration (90 Minutes)
Extension of patent term under

35 U.S.C. § 156

and

37 CFR 1.710 – 1.791

Exploring the viability of extension applications to:

basic and combination compounds; secondary patents

Important benchmarks in the drug's development and patent timelines
Eligibility for patent term extension
Regulatory review period determinations
How to calculate the patent term restored

respective roles of the FDA and PTO in granting patent extensions

third-party

challenges — "diligence"

Patent term extensions outside the U.S.
Examining patent term adjustment due to delays in prosecution before the USPTO

strategies for:

diligence in prosecution by the patent applicant
calculating the adjustment period

Understanding the link between patent extensions and exclusivity

extensions obtained through FDA Pediatric Exclusivity and Orphan Drug Exclusivity

Obtaining patent coverage for pharmaceuticals through the use of

second-generation

patents, e.g.,

maintaining patent position for

second-generation

products
approaches taken by pharmaceutical companies in obtaining

second-generation

patents
enforcement of

second-generation

patents
4:00pm

Question and Answer Wild Card
4:45pm

Co-Chairs' Final Comments and Proficiency Series Adjourns

Rich Kurz
Partner
Haug Partners

Wan-Shon Lo
Partner
Morgan, Lewis & Bockius LLP
April Abele Isaacson
Partner
Kilpatrick Townsend & Stockton LLP