Gain a comprehensive understanding of Hatch-Waxman and BPCIA essentials, a critical competency for legal and business professionals in the biopharmaceutical arena.
Welcome to ACI's Hatch-Waxman and BPCIA Proficiency Series, a virtual three-week program designed to provide new lawyers and executives for the life sciences industry with a solid foundation for understanding the essentials as well as the intricacies of Hatch-Waxman and BPCIA litigation and regulation.
Everyone who works in the life sciences industry must be well versed in the regulatory components and IP subtleties that play such an integral role in the patenting of its products.
A thorough understanding of Hatch-Waxman and the BPCIA is essential to anyone working in the biopharmaceutical area. This series, presenting virtually on our new state of the art interactive platform, will provide an in-depth review of Hatch-Waxman and the BPCIA as well as other IP basics relative to small molecules and biologics. This program will lay the necessary foundation to understand the dynamics of the applicable patent life cycles for biopharmaceutical products and business development plans.
Sessions will take place each Tuesday and Thursday afternoon in October for 3 weeks. Take a look at the 2022 Agenda and Speakers
Week One
Oct. 11

&

13

Regulatory Foundation:

Interplay of the FDA and PTO
Pre-Commercialization Concerns
Link between the FDA Approval and the Patent Process
The Orange Book

Week Two
Oct. 18

&

20

Hatch-Waxman and BPCIA Framework:

The Hatch-Waxman Landscape
Paragraph IV Disputes and Litigation
Biosimilars: BPCIA and aBLA Overview
Participating in the Patent Dance
The Purple Book

Week Three
Oct. 25

&

27

Focus on Bioequivalence, Exclusivity, Extensions, and Exceptions:

Bioequivalence & Interchangeability
180-Day Exclusivity
Non-Patent/ Regulatory Exclusivity
Exploring the Safe Harbor
Examining Patent Extensions
3 weeks of 2x weekly in-depth instruction
18 hours of interactive learning for professional development
Dedicated questions and answer period each day
6 class recordings for future reference
Substantive resource materials for your daily work
Certificate of completion and CLE credits
Practical Benefits to Attending
UNDERSTAND the interplay of the PTO and FDA in the patenting of drugs and biologics
LEARN about the approval process for drugs and biologics and their connection to the patent process
DEVELOP an in-depth and practical knowledge of Hatch-Waxman protocols, including:

Differences between NDAs, ANDAs, BLAs, aBLAs
The Orange Book vs. The Purple Book
180 Exclusivity
Bioequivalency
The Safe Harbor

COMPREHEND the framework of Hatch-Waxman Paragraph IV litigation and BPCIA patent dance
MAKE SENSE of the relationship between patent and non-patent exclusivity
EXAMINE patent extensions including restorations and adjustments
NAVIGATE the rules and exceptions of the safe harbor
PAST IN-HOUSE ATTENDEES FROM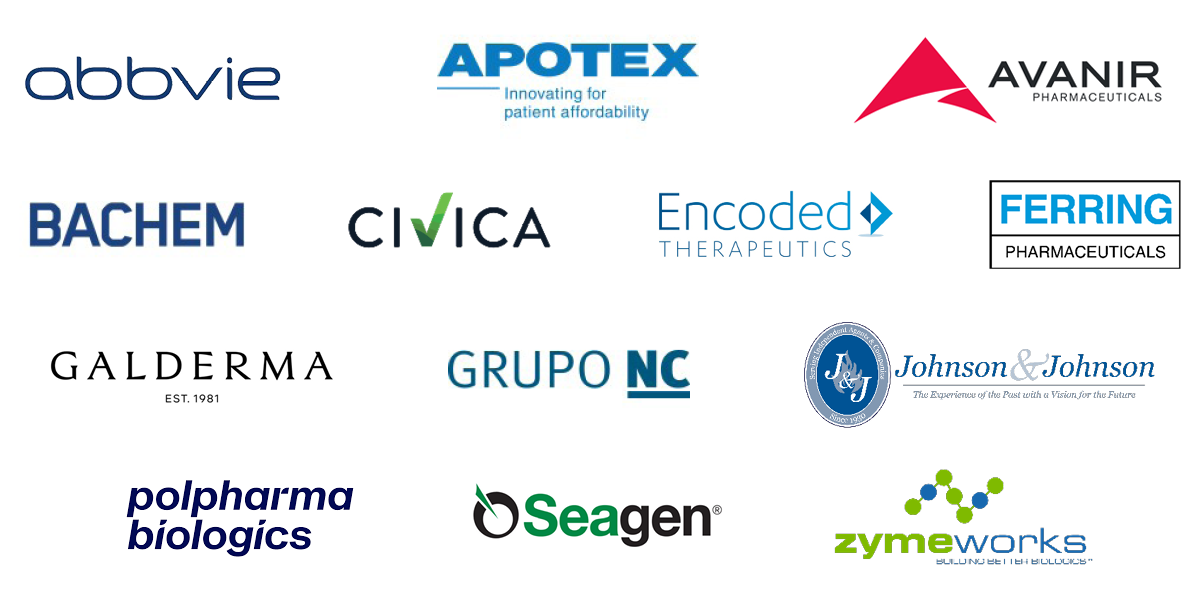 Very solid, excellent conference. Touched on critical subject matter.
It was very good.
The Hatch-Waxman and BPCIA Essentials Proficiency Series is designed for new Associates and business executives for the life sciences industry.
LAW FIRMS
Attorneys assigned to the following practice groups:
Life Sciences, Pharmaceuticals, and Biopharmaceuticals
Intellectual Property and Patents
Patent and IP Litigation
Hatch-Waxman and BPCIA litigation
Patents, Trademark & Copyright
PHARMACEUTICAL COMPANIES
In-House Counsel
Business Development Executives
C-Suite Executives
Associate Executives
Receive exclusive discounts, offers and agenda updates directly to your inbox.