Download Agenda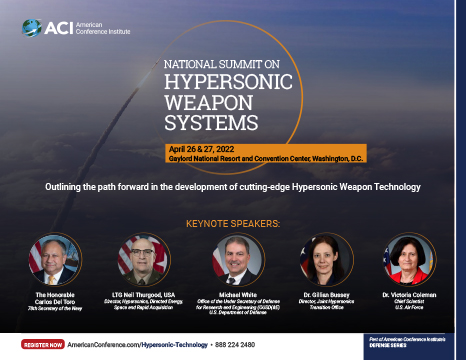 The National Summit on Hypersonic Weapons Systems aims to bring together the top speakers within the hypersonics development world to help explore and understand the DoD's approach to the ongoing global proliferation of hypersonic weapons, as well as learn about the emerging opportunities, and needs and challenges within Hypersonic Weapon Systems technologies.
Topics to be covered this year include:
The Latest DoD Hypersonic Weapon Systems Posture, Programs & Emerging Capabilities and Opportunities for Industry
Advancements in Hypersonic Glide Vehicles Design & Long-Range SCRAMJET Missile Technologies
Hypersonic Defense Modular System Architecture and Industrial Engineering Challenges
Latest Advancements in the Fielding and Testing of Hypersonic Weapons
Counter Hypersonic Technologies and Platforms – Challenging the Adversarial Threats
Government/DoD and International Cooperation Plans and Policies to Maintain a Global Defensive Superiority
Please fill in your details below.
---
How We Will Use Your Data
We will process your personal data in order to provide you with the information that you have requested, and to share information about our events and products, deemed relevant to you, in accordance with our Privacy Policy. If you have any questions about how we will use your personal data, or our privacy policy, please contact [email protected].
American Conference Institute has not authorized the use or sale of its list by any outside organization. Anyone claiming to have our list is not legitimate.
If you decide that you no longer wish to receive information about our events and products, you can contact us any time at [email protected]. Each of our marketing communications (whether by email, phone, facsimile, post or SMS) will also include an appropriate and easy way for you to unsubscribe.
American Conference Institute, Two Park Avenue, 20th Floor, New York, NY 10016 USA T: 1-888-224-2480 E: [email protected]
---