Prepare to meet the challenges of the rapidly evolving legal and regulatory landscape of the cosmetics and personal care products industry
Our distinguished faculty will address the political, legal, regulatory and industry developments impacting the cosmetics and personal care products industry and provide you with the critical information that you need to:
Analyze what your company needs to consider when deciding to take a product global
Understand what import and inspection officials are looking for and how to avoid holds and delays
Develop claims that are as enticing to consumers as they are compliant
Explore the challenges associated with diversion and counterfeit goods and hear how others are handling these situations
Clarify changes taking place on the federal level, from new and proposed regulations to current priorities
Comprehend current state level priorities that impact the industry including a spotlight on California reforms
---
Here's what some of our attendees had to say about our one-of-a-kind event:
"Extremely informative with top notch panelists from all facets of the industry. Highly recommend!"
"Brought together a well informed bright group of people where you could learn from one another."
"The choice of hot topics allowed for great discussions between speakers and participants."
"Good presentations by subject matter experts on a wide variety of regulatory matters in the cosmetic world."
---
Who You Will Meet:
Cosmetics and Personal Care Products Industry:
In-House Counsel, including generalists and those having responsibility for FDA law and regulatory affairs; advertising and promotion; IP
Officers, Directors and Executives for Regulatory Affairs; Quality Assurance; Research & Development; Business Development
Law Firm Attorneys for the Cosmetics and Personal Care Products Industry whose practices focus on:
FDA regulation
Advertising and Promotion
Patents and Trademarks
Corporate matters
Litigation
---
Network with Cosmetics and Personal Care Products decision makers: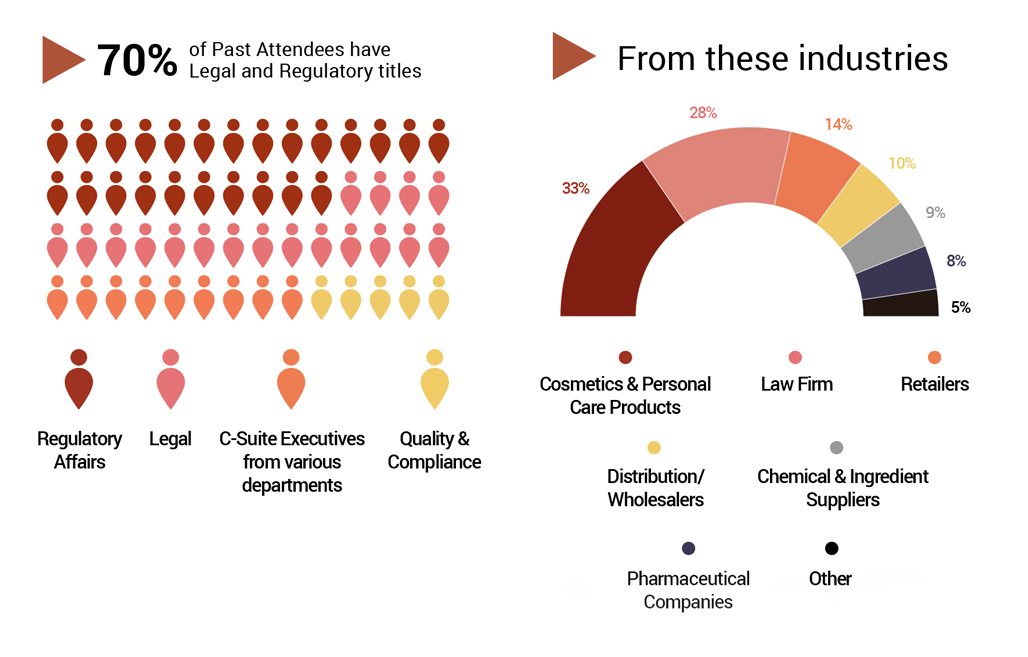 ---
Full conference details are on the way shortly. Register today for the industry's premier and most comprehensive legal and regulatory forum on cosmetic products.
Register Now