Download Brochure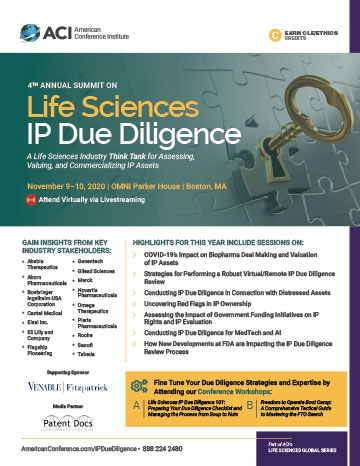 This one-of-a-kind, interactive forum where top diligence leaders will discuss best practices and help you develop strategies for preparing for, conducting, and applying the results of the IP due diligence process.

Download the brochure to see what's in store for this year's virtual event!
Meet Due Diligence Thought Leaders from Top Life Sciences Companies
---
Privacy Statement
We will process your personal data in order to provide you with the information that you have requested; to share with our sponsors so that they may send you information about their products and services where you have consented to us doing so by ticking the box at the end of this form; and in accordance with our Privacy Policy.
If you decide that you no longer want to receive information about our events and products, you can contact us any time at [email protected]. Each of our communications about our events and products that we send to you (whether by email, phone, facsimile, mail or SMS) will also include an appropriate and easy way for you to opt out of receiving further communications from us.
If you have any questions about how we will use your personal data, or our privacy policy, please contact [email protected].
---