Agenda (Eastern Daylight Time)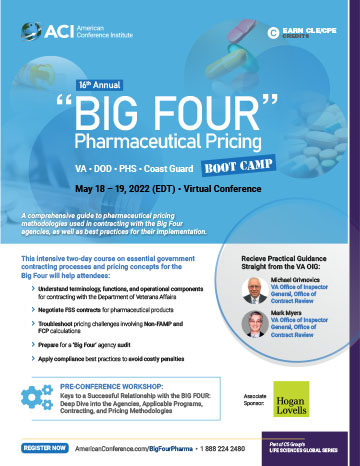 Download 2022 Brochure
Flip through our 2022 conference brochure and discover what's new this year.
VIEW FULL PROGRAM
Day 1 - Wednesday, May 18, 2022
May 18, 2022
9:00am – 12:00pm
Speakers


Mark Myers
Director, Healthcare Resources Division
VA Office of Inspector General, Office of Contract Review


Jennifer Lospinoso
Managing Director and Consulting Lead
Riparian
| | |
| --- | --- |
| 12:55 | |
| 1:00 | |
| 1:30 | |
| 2:30 | Break |
| 3:00 | |
| 4:00 | |
| 5:00 | Conference Adjourns |
Day 2 - Thursday, May 19, 2022
| | |
| --- | --- |
| 8:50 | |
| 9:00 | |
| 10:00 | |
| 11:00 | Break |
| 11:30 | |
| 12:15 | Live Polling |
| 1:00 | Break |
| 1:45 | |
| 2:45 | |
| 3:30 | Break |
| 3:45 | |
| 4:45 | Conference Adjourns |
Day 1 - Wednesday, May 18, 2022
12:55

Felecia Manning
Director, Managed Markets Contracts and Government Pricing
United Therapeutics

Allison Pugsley
Partner
Hogan Lovells LLP

1:00

Margaux Hall
Partner
Ropes & Gray LLP (Washington, DC)

1:30

Jeff Blake
Managing Partner
Federal Compliance LLC

James Phillips
Partner
Roeder, Cochran, Phillips, PLLC

This session will examine what to do prior to receiving a contract, what happens once the contract has been awarded, and the process to getting your contract successfully renewed.

Part I: Practical Examples Using Mock Products

Implementing contracting fundamentals and meeting legal requirements when offering a contract proposal
Developing guidelines for securing and maintaining contracting Information




Part II: Extended Product Placement Strategies

Identifying the agencies entitled to make purchases off the FSS, and the pricing methodologies associated with each

Consolidated Mail Outpatient Pharmacy System (CMOPS)
Indian Health Services (IHS)
Department of Defense (DoD)

Assessing the reasons why government facilities may purchase a product from a PBM at a higher price than it is listed at on the FSS
Putting strategies into place which will encourage purchases directly from the manufacturer
Examining how the FSS price is connected to discount benchmarks
Determining how both FSS fees schedule and FSS nation contracts impact the pricing of a product
Analyzing the requirements when working with MCF pricing and the criteria associated with it
Implementing clauses in pricing reductions to expand the opportunities of a product when working with FSS customers

What initiates price reduction clauses
What disclosures are required when working with the Basis of Award
Methods to track changes to customer pricing requirements

Determining the outcomes of refusal to comply with price reduction clauses
Properly monitoring active buyers from government agencies

2:30

Break

3:00

Felecia Manning
Director, Managed Markets Contracts and Government Pricing
United Therapeutics

Joy Sturm
Partner
Hogan Lovells LLP

Implementing the correct formula for calculating the FCP

Examining how FCP affects discounts related to pharmaceutical pricing discounts within the "Big Four" agencies

Determining the role of the Non-Federal Average Manufacturers Price (Non-FAMP) within the contracting process and ensuring the proper calculations
Identifying the sources of data necessary to calculate the non-FAMP
Best practices for data collection to ensure accurate calculations
Analyzing the interplay between FCP and Non-FAMP
Assessing additional discount adjustments based on calculations
When must these calculations be reported to Veterans Affairs?
What are the ways in which changes to Medicaid calculations can affect non-FAMP calculations?
Assessing the role of the price reduction clause
Exploring the abnormalities seen when calculating the non-FAMP, and their causes
Preparing for irregularities when calculating prices

Penny pricing
"Smoothing" prices
Notifying the VA of these irregularities

Correctly calculating pricing while incorporating lagged price reductions
Developing pricing calculations for new and transferred pharmaceuticals
Maintaining compliance when communicating price reductions with wholesalers
Securing sub-ceiling and non-ceiling sales related to the 340B program

4:00

Stephen E. Ruscus
Partner
Baker Hostetler

Analyzing supply chain and domestic sourcing legislative and regulatory issues persisting post-pandemic
Overview of proposed legislation and regulatory developments and the implications for manufacturers
Defense Production Act and Essential Medicines issues
Examining current TAA requirements for pharmaceuticals

VA covered drug exception

Where does the TAA show up in the FSS contract and related modifications

5:00

Conference Adjourns
Day 2 - Thursday, May 19, 2022
8:50

Felecia Manning
Director, Managed Markets Contracts and Government Pricing
United Therapeutics

Allison Pugsley
Partner
Hogan Lovells LLP

9:00

Merle DeLancey
Partner
Blank Rome LLP

Michael Grivnovics
Director, FSS, Contracts Division
VA Office of Inspector General

Post award FAR/GSAR clauses and compliance

Price Adjustments (Defective Pricing)
Price Reductions

Tracking Customer Price and Ratio

Other potential FSS compliance traps

Industrial Funding Fee
Economic Price Adjustments
Trade Agreements Act
Modifications — Product Addition and Removal

Potential penalties for non-compliance
Key provisions of a compliance plan

10:00

Mark Myers
Director, Healthcare Resources Division
VA Office of Inspector General, Office of Contract Review

Jennifer Plitsch
Partner
Covington & Burling LLP

Understanding the reasons for implementing a single or dual pricing model
Exploring the requirements for transitioning between the two models and the calculations associated with this transition
Determining which of the agencies are eligible for each pricing model
Analyzing the changes to agencies on a yearly that will affect each of these pricing models

What are the considerations given during the first year of the contract?

Utilizing the proper pricing methodology to ensure the correct model is being implemented
Determining the FCP's effect on the expansion of the dual pricing model
Assessing the positives associated with each of the pricing strategies

Best Price implications
What are the effects of these models on overall pricing?
What are the effects of single pricing and dual pricing on manufacturers?

Comprehending how the FCP and the FSS affect one another
Correctly incorporating FSS pricing into the FCP to achieve positive results
Analyzing methods for price reduction

11:00

Break

11:30

Ted Karnezis
Owner
Karnezis Consulting

James Kim
Partner
Arnold & Porter LLP

Overview of new and changing requirements through SAM
Forecasting timelines for registrations and renewals and how to prepare
Assessing what information and documentation is required for SAM certification

What's required for domestic and foreign entities
Practical examples of pitfalls that could be detrimental and how to avoid discrepancies

FAR registration process and how it translates to SAM certification

12:15

Live Polling

Greg Madden
Managing Member
Orlaithe Consulting LLC

Lisa C. McNair
Senior Manager, Government Programs
Lupin Pharmaceuticals, Inc.

This session will provide a comprehensive look at "Big Four" contract deliverables and guidance on how to build a best-in-class compliance program to fulfill those obligations and mitigate risk.

Key topics of discussion include:

Overview of annual and quarterly reporting requirements
Small business sub-contracting plan requirements

Tips on how to approach internal communication and coordination

How to comply with new affirmative action reporting obligations for federal contractors and subcontractors
How to develop policies and processes to minimize exposure

1:00

Break

1:45

Allison Pugsley
Partner
Hogan Lovells LLP

Assessing the requirements to appear on TRICARE's formulary
Determining which drugs will be listed on the formulary for TRICARE
Exploring the negotiations which companies must partake in when attempting to reach the TRICARE formulary
Analyzing eligible retroactive rebates manufacturers may request

Overpay
What are the DoD requirements when responding to a manufacturers' waiver requests?
What is the waiting period for a waiver request?

Applying TRICARE utilization to pricing calculations for different price types – non-FAMP, FCP, AMP, and BP

Ensuring that the necessary calculations are being utilized for the different pricing groups
Reviewing the challenges of accounting for TRICARE sales in your pricing calculations
Accounting for price fluctuations that may occur during the period between time of sale and receipt of utilization data

2:45

Elizabeth Lindquist
Partner
King & Spalding LLP

This session will provide practical insights on how manufacturers can limit liability when a pricing error occurs in reporting to government agencies. Using hypothetical examples, explore critical actions to take internally and externally, and best practices for avoiding costly missteps.

Immediate actions to consider when a pricing error is made

How to organize internally before making a disclosure to the VA

Practical examples of how to correct pricing and submit a restatement to the VA

3:30

Break

3:45

William Sarraille
Partner
Sidley Austin LLP

T. Reed Stephens
Partner
Winston & Strawn LLP

What is a PHS 340B entity and why do they receive special pricing on drugs?
PHS 602: navigating the complexities of determining who qualifiesfor 340B
What steps does a 340B entity need to take to qualify for the program's benefits?
Key 340B program amendments

Orphan drug limitation
ADR process and civil money penalties

Exploring 340B program growth

Examining manufacturers' obligation, or lack thereof, to offer 340B pricing on drugs dispensed by contract pharmacies
HRSA 340B program enforcement
Implications of recent cases

Protecting against duplicate discounts and diversion of products
Examining the latest developments in 340B related litigation and the implications for manufacturers

4:45

Conference Adjourns
Keys to a Successful Relationship with the Big Four: Deep Dive into the Agencies, Applicable Programs, Contracting, and Pricing Methodologies

Mark Myers
Director, Healthcare Resources Division
VA Office of Inspector General, Office of Contract Review

Jennifer Lospinoso
Managing Director and Consulting Lead
Riparian
What is it about?
This pre-conference workshop will act as an introduction to, as well as a refresher on the laws, regulations, and pricing methodologies utilized by the "Big Four" agencies as the basis for contract and formulary determinations. This workshop will provide an overview of core concepts, preparing you for the more in-depth discussions that will take place throughout the conference.
Identifying the "Big Four" agencies: VA, DoD, PHS, and Coast Guard
Examining the Federal Acquisition Regulation (FAR) and its relation to government procurement and "Big Four" contracting
Exploring the Department of Veterans Affairs' delegated authority in relation to FSS pharmaceutical contracts
Learn about the mechanics of FSS contracts and the associated timelines
Understanding reporting requirements when contracting with the "Big Four" and compliance best practices

How to accurately complete the CSP sheets and the related disclosure requirements

Examining the treaties by which GSA/FSS contracts are bound
Identifying FSS eligible entities
Complying with FSS clauses regarding socioeconomic programs
Entering into the Master Agreement (MA) and a Pharmaceutical Pricing Agreement (PPA)
Introduction to the non-FAMP and FCP calculations
Exploring the Veterans Health Care Act of 1992

Introduction to Section 602 – pricing for Public Health Services Act (PHS) covered entities
Section 603 – authorization for the VA to negotiate drug prices

Examining terms which fall under each discount program
Analyzing the Federal Supply Schedule related to government contracting in the pharmaceutical space
Identifying key pricing terms related pricing within government pharmaceutical programs

Federal Ceiling Price (FCP)
Pharmacy benefits management programs (PBMs)
National formularies
VA National Formulary
DoD Uniform Formulary

Assessing the functions of the PHS 340B program and identifying qualified entities under the Affordable Care Act

Examining the discounts available under the 340B program
Determining methods to monitor HRSA data
Exploring the restrictions that exist for participating covered entities