Agenda (Central Standard Time)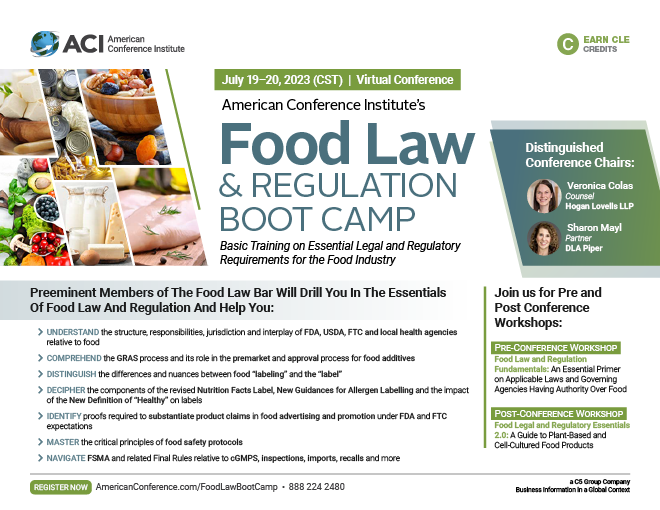 Download 2023 Brochure
Flip through our 2023 conference brochure and discover what's new this year.
VIEW FULL PROGRAM
Pre-Conference Workshop
Jul 18, 2023
1:30pm – 04:30 PM
Speakers


Kristen R. Klesh
Partner
Loeb & Loeb LLP


Kristi Wolff
Partner
Kelley Drye & Warren LLP
Day 1 - Wednesday, July 19, 2023
| | |
| --- | --- |
| 7:15 | Registration and Continental Breakfast |
| 8:15 | |
| 8:30 | |
| 9:15 | |
| 10:00 | Morning Coffee Break |
| 10:15 | |
| 11:15 | |
| 11:45 | |
| 12:45 | Networking Luncheon |
| 1:45 | |
| 2:45 | Afternoon Coffee Break |
| 3:00 | |
| 4:00 | |
| 5:00 | Conference Adjourns to Day Two |
Day 2 - Thursday, July 20, 2023
| | |
| --- | --- |
| 8:15 | |
| 8:30 | |
| 9:15 | |
| 10:15 | Morning Coffee Break |
| 10:30 | |
| 11:30 | |
| 12:30 | Conference Ends |
Post-Conference Workshop
Jul 20, 2023
1:30pm – 05:30 PM
Speakers


Madeline Cohen
Senior Regulatory Attorney
The Good Food Institute


Bob Hibbert
Senior Counsel
Wiley Rein LLP
Day 1 - Wednesday, July 19, 2023
7:15

Registration and Continental Breakfast

8:15

Veronica Colas
Counsel
Hogan Lovells LLP


Sharon Mayl
Partner
DLA Piper


8:30

John Johnson
Senior Counsel
Shook Hardy & Bacon LLP


Evangelia (Eve) Pelonis
Partner
Keller & Heckman


Understanding how the responsibilities and jurisdiction of FDA, USDA, FTC and local health agencies intersect and overlap
Deciphering the organizational structure of each agency and their respective roles in food regulation

DHHS: FDA – CFSAN (Center for Food Safety and Applied Nutrition); (ODSP) Office of Dietary Supplement Programs; CDC (Center for Disease Control)
USDA – FSIS (Food Safety Inspection Service), AMS (Agriculture Marketing Service), APHIA (Animal Plant Health Inspection Service)
FTC – Bureau of Consumer Protection
State and local health agencies

Defining the scope of each agency's jurisdiction and authority

labeling
marketing, promotion and advertising
product recalls

Examining how each agency exercises its jurisdiction and regulatory authority

rule making
product decisions
enforcement

Exploring proposed changes at FDA for the Human Food program
Addressing preemption challenges between state and local authorities

understanding when federal laws preempt state regulation
examining how state authorities exercise their authority despite preemption

9:15

Stuart Pape
Partner
Polsinelli


Defining food, food ingredients and food additives
Exploring the GRAS process and understanding its role in the premarket and approval process for food additives
Distinguishing GRAS classification made through scientific procedures vs. food additive safety determinations made by a sponsor
Understanding when a GRAS determination can be made based on "common use in food"
How to outline a substance's intended condition of use in the food product

10:00

Morning Coffee Break

10:15

Riëtte van Laack
Director
Hyman, Phelps, & McNamara, P.C.


Defining "labeling" and the "label"

identifying the role of packaging, package inserts, websites and advertisements relative to the label and to labeling

A summary of applicable laws and regulations applicable to food labeling and labels

21 CFR parts 100-199
FDCA Chapter IV
Fair Packaging and Labeling Act of 1966

Identifying the FDA's responsibility for food labeling and labels
Understanding the USDA 's role in food labeling and labels

the scope of authority of FSIS and AMS
labels approved under the prior label approval system vs. the generic label approval

Defining the product "label"

front-of-pack, information panel, package insert
label requirements – contents, ingredients, allergens
how to list label information posted on websites and advertisements

How to avoid allegations of misrepresentation and misbranding

11:15

Nury Yoo
Partner
Faegre Drinker Biddle & Reath LLP


In 2016, the FDA overhauled the Nutrition Facts label and gave most large Food manufacturers until 2022 to comply with the new requirements. This session will explain what the new label requires and some still outstanding points of controversy.

Percent daily value classifications
Serving size revisions
Sugar and fat content information
Nutrient updates

11:45

Veronica Colas
Counsel
Hogan Lovells LLP


FDA's New Proposed Rule on Healthy

Comparing the current definition of healthy to the definition under the proposed new Rule
Understanding how the definition of healthy under the proposed new Rule would affect food labels
Examining the "specific nutrient-related criteria to use the nutrient content claim "healthy" under the proposed new Rule
Exploring how the new definition would expand the healthy food category

FDA's New Guidances on Allergen Labeling requirements

Analyzing the FDA's two new guidance documents on Allergen Labeling requirements – what are the differences:
Questions and Answers Regarding Food Allergens, Including the Food Allergen Labeling Requirements of the Federal Food, Drug, and Cosmetic Act (Edition 5): Guidance for Industry

Draft Guidance
Final Guidance

Examining ingredients on the new allergen list under the guidances

Label Status Updates on:

Bioengineered/ GMO
Organic
Gluten-free
Natural

12:45

Networking Luncheon

1:45

Miriam Guggenheim
Partner
Covington & Burling LLP


Andrew Lustigman
Partner
Olshan, Frome, Wolosky LLP


Examining the relationship between the food product label and advertising and promotion
Distinguishing "claims made" from "claims substantiated"
Understanding what you can and cannot say in food advertising and promotion
Overview of food product claims and the regulatory requirements for making each:

nutrient and health
structure/function – dietary supplements vs. conventional foods
mental performance and focus
disease
comparative
calories/ingredients

Distinguishing FDA and FTC jurisdiction and authority relative to claims substantiation in food advertising and promotion
Identifying proofs required to substantiate product claims under FDA and FTC expectations

clinical studies
scientific evidence and testing
consumer surveys
taste and internal expert panels
market research firms

When are social media and websites can be viewed as a means of advertising and promotion
Understanding what recent enforcement actions reveal about food and beverage marketing and advertising vulnerabilities
Monitoring of food advertising by National Advertising Department of Better Business Bureau (NAD)
Exploring Lanham Act challenges relative to false and misleading claims for competitor products
Assessing when health claims for a food product which have been cleared through FDA's pre-market clearance procedures can be deemed unauthorized under the FDCA
Identifying circumstances under which disease prevention claims for a food product may relegate that product to the status of an unapproved new drug

2:45

Afternoon Coffee Break

3:00

Meredith Quinn Olearchik
Vice President & Associate General Counsel
Campbell Soup Co


Justin Prochnow
Partner
Greenberg Traurig LLP


Overview of essential food safety regulations
Defining "adulteration" and "adulterants" under the FDCA and the Federal Meat Inspection Act

poisonous or deleterious substances
added vs. non-added substances
chemical contaminants and carcinogens
filth and extraneous materials
pesticides
metals

Update on STECs and E. coli prevention protocols
Differentiating allergens from pathogens

understanding how they differ
FDA vs. USDA

How to establish effective food safety guidelines, protocols and screening measures – traceback, HACCP, sanitation SOPs and testing procedures
Update on the Reportable Food Registry and how the FDA has used information provided in the Registry to address food safety issues

4:00

Daniel Dwyer
Partner
Kleinfeld Kaplan & Becker LLP


The Food Safety Modernization Act (FSMA) is one of the most sweeping laws in the history of FDA and dramatically changed food safety standards. FSMA shifted the focus of food safety from a reactionary approach to a preventative one. This session will provide an in-depth overview of the FSMA as well as significant subsequent FDA Guidances and common compliance pitfalls to avoid.

FSMA Overview

Title I – prevention of food safety hazards
Title II – detection and response to food safety problems
Title III – improving safety of imported food
Title IV –Miscellaneous

Final FSMA Rules recap

Preventive Controls for Human Food Final Rule
Preventive Controls for Food for Animals Final Rule
Standards for Produce Safety Final Rule
Foreign Supplier Verification Programs (FSVP) for Importers of Food for Humans and Animals Final Rule
Accredited Third-Party Certification Final Rule
Sanitary Transportation of Human and Animal Food Final Rule
Mitigation Strategies to Protect Food Against Intentional Adulteration Final Rule

An overview of relevant FDA Guidances for FSMA Compliance

5:00

Conference Adjourns to Day Two
Day 2 - Thursday, July 20, 2023
8:15

Veronica Colas
Counsel
Hogan Lovells LLP


Sharon Mayl
Partner
DLA Piper


8:30

Claudia A. Lewis
Partner
Venable LLP


Defining cGMPs and the scope of their importance to food commercialization
Understanding how cGMPs factor into the scope and authority of the FDA
Changes to food cGMPs under FSMA's Preventive Controls for Human Food Final Rule
Deciphering HACCP/ HARPC applicability as per the rule and its relationship with cGMP compliance
Validation and proofs of preventative controls
Examining requirements for qualified individuals

9:15

Timothy Dietrich
Partner
Barley Snyder LLP


Examining inspection mandates under FSMA
Defining the jurisdiction and authority of each agency to conduct inspections – FDA, USDA – FSIS, Department of Public Health
Assessing how these agencies work together in the context on an inspection
Knowing what the Government will be looking for during an inspection

how to prep your records and employees for an inspection
how to handle a "surprise" inspection
how to respond to agent's requests on-site
distinguishing a valid investigation from a fishing expedition and how your staff should react to each

Formulating a Form 483 response post-inspection
Understanding the Government's recourse when a response is not received at the end of the 15-day response period

10:15

Morning Coffee Break

10:30

Sharon Mayl
Partner
DLA Piper


Foods imported into the U.S. must meet the same requirements as foods produced domestically. Because U.S. regulatory agencies cannot inspect foreign facilities at the same rate as domestic facilities, the oversight tools differ. This session will help you understand what it takes to legally import food into the country, including:

Overview of laws and regulations relative to food imports in the U.S.
Understanding how the FDA USDA and other US regulatory bodies ensure compliance with U.S. law
Analyzing the requirements of the Final FSVP Rule, including issues covered in FDA's January 11, 2023 final FSVP guidance document such as:

The definitions of "FSVP importer" and "foreign supplier"
FDA's enforcement discretion policies;
Requirements regarding hazard analysis and supplier verification activities;
FSVP documentation and audit procedures;
Consequences for non-compliance

Hearing about other FSMA import programs
Learning about the import process at the border

11:30

Brandon Neuschafer
Partner
Bryan Cave


Exploring FDA's recall and detention authority and how this changed under FSMA
Tips on how to effectively remove products from the marketplace once an issue is discovered – making the decision when and how to recall
Identifying and correcting regulatory and compliance mishaps that led to the recall
Working with state and federal government to streamline the recall process
Maintaining proper documentation during a recall in anticipation of litigation that may result from the recall
Developing a strategy to address publicity issues that arise as the direct result of a recall

12:30

Conference Ends
Workshop A – Food Law and Regulation Fundamentals: An Essential Primer on Applicable Laws and Governing Agencies Having Authority over Food

Kristen R. Klesh
Partner
Loeb & Loeb LLP

Kristi Wolff
Partner
Kelley Drye & Warren LLP
What is it about?
This primer will provide attendees with an essential an in-depth working knowledge of the cornerstone laws and regulations applicable to food as well as the administrative bodies responsible for the regulation of food in the United States.
Topics addressed during this workshop will set the stage for the main conference by helping you to thoroughly comprehend the complexities and challenges associated with the laws, regulation and governance of food and related products.
Defining the terms "food" and "beverage" as per the Food, Drug and Cosmetic Act
Overview of governing agencies having jurisdiction and authority over food regulation
Understanding the role of the Department of Health and Human Services in food regulation

U.S. Food and Drug Administration (FDA)

National Institutes of Health (NIH)
Center for Disease Control (CDC)

Review of applicable laws from which FDA derives its authority over food regulation

Food, Drug, and Cosmetics Act (FDCA)
Fair Packaging and Labeling Act
Food Safety Modernization Act (FSMA)

Comprehending the U.S. Department of Agriculture's (USDA's) authority in food regulation and how it compares to that of FDA's authority

Food Safety and Inspection Service

Review of applicable laws from which USDA derives its authority over food regulation

Meat, Poultry, and Egg Products Inspection Acts
Egg Products Inspection Act
Federal Meat Inspection Act
Poultry Products Inspection Act

Appreciating the FTC's unique role in food regulation

Federal Trade Commission Act
The Lanham Act

Identifying other applicable agencies responsible for food regulation

Department of Commerce
Department of Transportation
Department of Justice

Overview of other laws governing or otherwise impacting the regulation of food products

Public Health Service Act
Poultry Products Inspection Act
Bioterrorism Act
Sanitary Food Transportation Act
Workshop B – Food Legal and Regulatory Essentials 2.0: A Guide to Plant-Based and Cell-Cultured Food Products

Madeline Cohen
Senior Regulatory Attorney
The Good Food Institute

Bob Hibbert
Senior Counsel
Wiley Rein LLP
What is it about?
This unique workshop will take your knowledge of food and beverage law to the next level by addressing cutting edge topics which will greatly impact the future of the laws and regulations governing food. Outside influences from social movements to dietary trends to scientific advancements have put such matters as plant-based meats and milks, and now cell-cultured meats into the spotlight.
Our workshop leaders will address these topics and to familiarize you with this next wave of regulatory essentials as well as provide a status report on some other novel legal and regulatory food concepts. Points of discussion will include:
Plant-Based "Meats" and "Milks": Examining the Standards of Identity
Exploring the latest developments on standards of identity for:

Plant-based "meat" products
Plant-based dairy alternatives

Analyzing the new FDA proposed guidance on plant-based milks and how it will impact the market
Analyzing the various states' approaches to plant-based "meats" and "milks"
Understanding the process for developing and labeling of protein-alternative foods
Exploring labelling and usage requirements by plant-based food companies
Cell Cultivated Meat, Alternative Proteins, Precision Fermentation
This past fall, the FDA gave the first go ahead for a company to move forward on animal cellular technology for human food. This significant step opens the door for a new era of food, and a starting point for a brand new food product sector. This panel will cover this breaking development and several others.
Understand the industry significance of FDA's First (2022) Pre-Market Consultation for Human Food Made Using Animal Cell Culture Technology, and subsequent Pre-Market Consultation in 2023
Take stock of recent developments regarding the GRAS Pathway and Pre-market Consultations for Novel Food Ingredients
Understand the industry significance of GRAS Notifications for alternative proteins and use of precision fermentation