ACI's Hatch-Waxman Series Advisory Board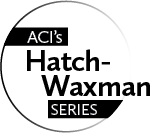 American Conference Institute's Hatch-Waxman Series Advisory board was created as a part of ACI's ongoing effort to provide industry leading content and a world renowned speaker faculty. The board is composed of a selection of all-in-house advisers, including Chief IP and very senior IP/Patent counsel from the leading brand name and generic pharmaceutical companies in the country and in some cases the world. This 'inner circle' counsels ACI on the impact of litigation trends and emerging topics.
Advisory Board

Ryan M. Daniel
AGC, Corporate and Business Transactions
Fresenius Kabi

Laura DeMoor
Associate General Counsel, IP
Baxter Healthcare Corporation

Stephanie Donahue
Principal Counsel, Patent Litigation
Sanofi

Serena Farquharson Torres
Executive Director, Assistant General Counsel, Innovation Law
Bristol Myers Squibb

Linda Friedlieb
Division Counsel
AbbVie

Jenny Johnson
Vice President, IP
Endo Pharmaceuticals

Staci Julie
SVP and Chief IP Counsel
Teva Pharmaceuticals
Neema Kumar
Vice President, IP, North America
Sandoz

James P. Leeds
Assistant General Patent Counsel
Eli Lilly & Company

Mary Morry
Counsel, IP Litigation
Merck & Company

Jeffrey N. Myers, Ph.D.
Vice President & Assistant General Counsel
Pfizer Inc

Aaron Pereira
Senior Director of Patents
Ferring Pharmaceuticals

Pearl T. L. Siew
Senior Vice President and Head of IP
Design Therapeutics

Brian Stone
Associate General Counsel
Global Legal-Regulatory
Viatris

Lars P. Taavola
VP, Chief IP Counsel & General Counsel, Specialty Generics
Mallinckrodt Pharmaceuticals

Andrea D. Tiglio
Executive Director
Assistant General Counsel, Intellectual Property
Jazz Pharmaceuticals

Maryll W. Toufanian
Senior Vice President, Regulatory Strategy and Policy
Amneal Pharmaceuticals

Peter Waibel
Head, Patent Litigation (US)
Novartis Pharmaceuticals Corporation

Kevin Zive
Vice President - General Counsel, and Head of Global Intellectual Property
Apotex Inc.
Emeritus Members

Stephen R. Auten
Partner, Chair of Pharmaceutical & Life Sciences Litigation
Taft Stettinius & Hollister LLP
(Former Vice President, IP, Sandoz, Inc.)

George W. Johnston
Counsel
Gibbons P.C.
(Former Vice President & Chief Patent Counsel, Hoffmann-La Roche)

Honorable Kathleen M. O'Malley (Ret.)
Of Counsel
Irell & Manella LLP
(Former United States Circuit Judge U.S. Court of Appeals for the Federal Circuit)

Honorable Teresa Rea
(Former Acting Director of the USPTO)

Shashank Upadhye
Partner
Upadhye Tang LLP
(Former Vice President – Global Intellectual Property, Apotex, Inc.)