Download your agenda!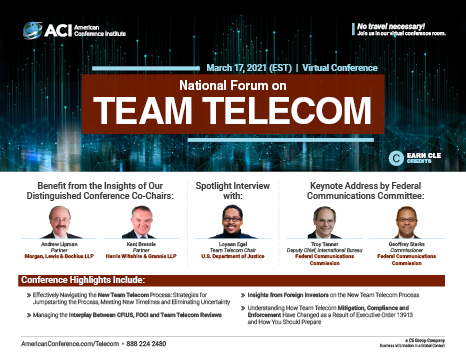 This one-day virtual event will allow telecommunications industry executives and practitioners specializing in National Security, Telecommunications, International Trade, Import/Export Compliance and Global M&A to gain critical strategies for managing reviews in the new Team Telecom environment, meeting new timelines, eliminating uncertainty and overcoming key challenges and pitfalls. To see the full list of speakers and the topics being presented – fill out your details on the right.
Please fill in your details below.
---
How We Will Use Your Data
We will process your personal data in order to provide you with the information that you have requested, and to share information about our events and products, deemed relevant to you, in accordance with our Privacy Policy. If you have any questions about how we will use your personal data, or our privacy policy, please contact [email protected].
If you decide that you no longer wish to receive information about our events and products, you can contact us any time at [email protected]. Each of our marketing communications (whether by email, phone, facsimile, post or SMS) will also include an appropriate and easy way for you to unsubscribe.
American Conference Institute, Two Park Avenue, 20th Floor, New York, NY 10016 USA T: 1-888-224-2480 E: [email protected]
---