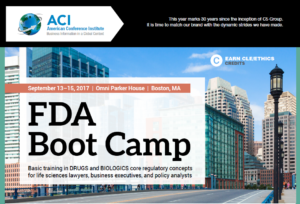 The American Conference Institute (ACI) is proud to announce that its industry leading
FDA Boot Camp
conference is returning to
Boston on September 13-15, 2017
.  Over the past 12 years, thousands of legal professionals – from associates to partners to GCs – have relied on ACI's FDA Boot Camp to provide them with both a comprehensive overview of the basics of FDA law as well as current information on the status of regulatory law in the pharmaceutical and biotechnology industries.  This year is no exception. Join a group of attendees as they gather in Boston to hone their practice and hear from a stellar faculty, led by the "who's who" of the nation's food and drug lawyers, in order to understand: – What to expect during a sponsor meeting with the FDA – The organization, jurisdiction, functions, and operations of the FDA – The essentials of the approval process – The interplay between the FDA and IP and the role of the Hatch-Waxman Act in the patenting of drugs and biologics – Labeling in the drugs and biologics approval process – Proactive adverse events monitoring, pharmacovigilance, and risk management,
and more
Our co-chair,
Geoffrey M. Levitt, Senior Vice President and Associate General Counsel
for Regulatory, Environmental and Global Supply at
Pfizer
explains why FDA Boot Camp has remained such a draw for over a decade: "I've been privileged to participate in FDA Boot Camp as a co-chair and faculty member on a number of occasions over the years and I can truly say that this event offers a unique combination of experienced faculty, a comprehensive and up-to-date program, and concise and practical content.  For any practitioner in the FDA space who wants to get a powerful learning boost in a compact package, this is a great program to attend." And as our second co-chair, Christopher M. Mikson, Partner at Mayer Brown, states: "ACI's FDA Boot Camp on Drug Regulation is a wonderful program geared toward those who would like to gain a thorough understanding of FDA's regulation of drugs and biologics.  The conference includes panel presentations and discussion sessions led by seasoned regulatory practitioners who offer deep experience and useful practical knowledge to our participants.  The ACI Boot Camp is the perfect way to learn how to navigate the complexities of the FDA regulatory process that is so critical throughout the life cycle of drugs and biologics." For more information about this event,
please click here.