By Zachary Tracer, Published on
Bloomberg Business
on November 17th, 2015 Drug companies should stop advertising directly to consumers, a major U.S. doctors group said Tuesday, declaring that the ads often push patients to more expensive treatments and inflate demand for therapies.  Drug companies should stop advertising directly to consumers, a major U.S. doctors group said Tuesday, declaring that the ads often push patients to more expensive treatments and inflate demand for therapies. In a vote Tuesday at the group's annual meeting in Atlanta, the American Medical Association called for an end to television commercials and magazine spreads that are used to pitch prescription drugs. It's a change from the AMA's previous position, which said the ads were fine as long as they were educational and accurate. The U.S. is one of the few countries that allows direct-to-consumer drug ads. [
Read More
]
Related Event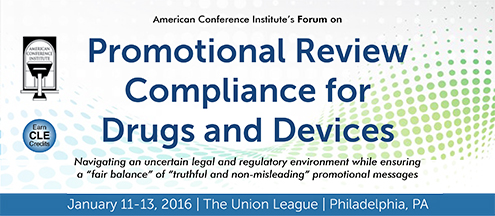 In addition to these recent developments regarding DTC promotions, the industry anxiously awaits how the recent decision in 
Amarin Pharma Inc. v. FDA
 will affect off-label marketing and exactly what type of communication is permitted under the ruling. 
American Conference Institute's Promotional Review Compliance for Drug and Devices
 will help you comprehend the limits and boundaries of the
Amarin
case on off-label marketing. While the industry examines the impact of the case outside of the Second Circuit, it is clear for now that
Amarin
will impact drug and devices companies beyond their marketing efforts in areas such as the approval process and government enforcement. As well as a  thorough discussion on off-label marketing, this conference brings you cutting edge and up-to-date information from the nation's most prestigious pharmaceutical and medical device manufacturers so that you can benchmark your practices against those of leading companies. 
Click here for a full conference overview. 
Advance pricing for Promotional Review Compliance for Drugs and Devices expires Friday, November 20th. Click here to register before rates go up on November 21st!