Published on
Law360
on October 15th, 2015. New York – Ferring Pharmaceuticals has recalled fertility medication Bravelle with so little fanfare that it is mostly fertility clinics and pharmacies that have informed patients seeking refills, but attorneys say the drugmaker is nonetheless well-positioned to ward off potential consumer suits because its approach meets recall guidelines for problems related to effectiveness rather than safety. [ 
Read More
 ]
Related Event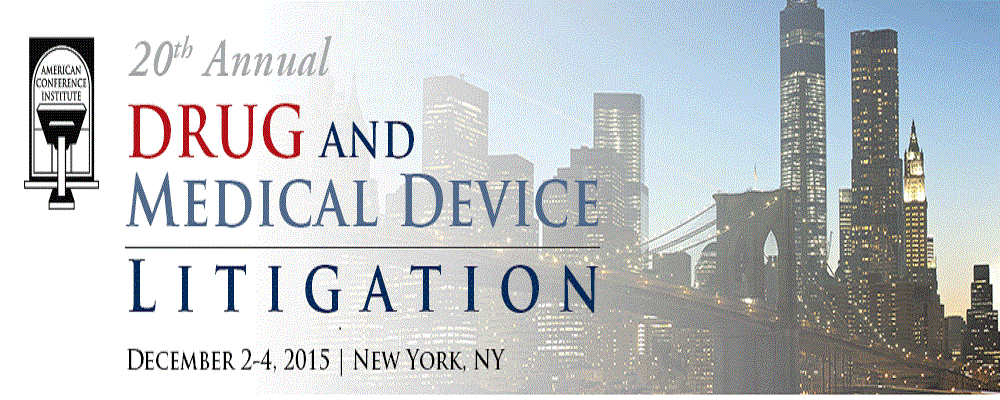 Join over 400 peers in analyzing how to prepare for increased litigation and knockout discovery battles based on the experiences of sophisticated trial counsel from around the country.  The 20th Anniversary event features panels including:
General Counsel and Chief Litigation Counsel Roundtable: Factoring in the Attendant Consequences of a Products Liability Action When Making Business and Settlement Decisions:
Howard L. Dorfman Senior Vice President and General Counsel Turing Pharmaceuticals (New York, NY)
Jean F. Holloway Vice President, General Counsel & Secretary CryoLife, Inc. (Kennesaw, GA)
Rita A. McConnell Vice President and Chief Litigation Counsel Medtronic, Inc. (Minneapolis, MN)
Richard W. Silbert V.P., Assoc. General Counsel Purdue Pharma L.P. (Stamford, CT)
Jack C. Silhavy
Executive Vice President & General Counsel Fresenius Kabi USA (Lake Zurich, IL)
Anthony P. Tinari
Vice President and General Counsel Bracco Diagnostics Inc. (Monroe Township, NJ)
Allen Waxman
Executive Vice President & General Counsel, Market Access/Law & Government Affairs Eisai Inc. (Woodcliff Lake, NJ)
Moderated by:
Lori G. Cohen
Shareholder and Chair, Pharmaceutical, Medical Device & Health Care Litigation Practice and Trial Practice Group Greenberg Traurig, LLP (Atlanta, GA)
What keeps in-house products liability counsel up at night when faced with a potential products liability issue?
Creative management and resolution of mass tort scenarios before the cases are filed
Considerations for putting systems in place before products liability litigation happens based on a clear understanding of how these ancillary consequences drive and trigger each other
Tools for coordinating strategies with different in-house constituencies to cover the collateral consequences and form a bulletproof defense
Determining when to bring in law firm counsel
Early case evaluation and various approaches to settlement

Exploring the troubling steady increase in the size of drug and medical device products liability settlements and verdicts
Understanding the challenges inherent in executing a trial/settlement strategy in the face of an increasingly aggressive plaintiffs' bar and ever-rising litigation costs
Positioning yourself from the outset to drive down the costs of settlement decision
Anticipating the consequences of settlement decisions: how do you resolve one side of a potential products liability issue without creating a monster on the other side?

More information about this event, including a full agenda, faculty list, and brochure can be accessed at www.drugandmed.com.