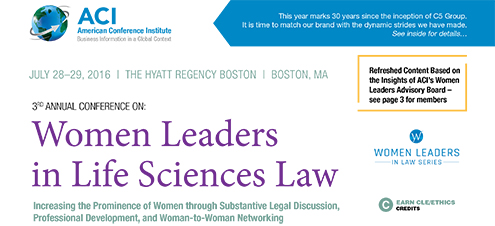 New York – June 17, 2016 American Conference Institute (ACI) is pleased to announce that over General Counsel and in-house representatives from more than 30 leading life sciences companies plus representatives from
the Federal Bench and USDOJ
will present at
ACI's 3rd Annual Conference on Women Leaders in Life Sciences Law
which will take place in Boston on
July 27-29, 2016
. Stephanie Butler, Division Manager with ACI, stated: "The feedback from last year's event was extraordinary, and we are proud and honored to host this event once again.  Our mission for ACI's Women Leaders in Law series is to not only showcase and acknowledge industry leaders, but also to shatter the glass ceiling still so unfortunately prevalent in the legal community.  We are delighted with the overwhelmingly positive response and support we've received from both men and women in the life sciences industry with regards to this topic." Conference co-chair Gael Diane Tisack, Terumo Cardiovascular Group Vice President of Legal Affairs Terumo Americas Vice President of Intellectual Property at Terumo Corporation added,  "The Women Leaders in Life Sciences Law conference benefits women of all levels in their career.  The training and stories help guide young women lawyers as they navigate their next steps and the networking opportunities give more experienced lawyers the support they need to achieve the next level.  This conference will be on my calendar every year." Featuring an outstanding faculty of speakers, multiple networking opportunities, and substantive legal updates on the hottest issues currently facing life sciences companies,
highlights of this event include:
Participation and leadership strategies from General Counsel including:

Alane Barnes, Vice President, General Counsel & Corporate Secretary, Biocryst Pharmaceuticals, Inc.
Jennifer K. Benenson, Vice President & North America General Counsel, Ipsen Biopharmaceuticals, Inc.
Carolyn M. Bruguera, Vice President & General Counsel, Medical Device Manufacturers Association (MDMA)
Linda F. Friedman, Senior Vice President, General Counsel and Secretary, Astellas US LLC
Gretchen Fritz, Vice President, General Counsel & Corporate Secretary, Luitpold Pharmaceuticals, Inc.
Tamara Joseph, Senior Vice President, General Counsel & Chief Compliance Officer, InVivo Therapeutics Corp.
Caryn McDowell, General Counsel & Chief Compliance Officer, Cytokinetics, Inc.
Denelle J. Waynick, Vice President, Legal Affairs (Americas) & US General Counsel, UCB, Inc.
•     Leadership strategies from over Chief Legal Officers, Chief Compliance Officers, Senior Counsel, VPs, and more from over 30 companies
Insights from a panel of women in government including Federal Judges and USDOJ representatives regarding life sciences specific enforcement and litigation
Advice from noted executive and communications coaches designed to give attendees greater presence, poise, confidence, charisma, and the ability to connect with and influence both senior leadership and direct reports.
Four new substantive CLE sessions on the biggest legal challenges facing life sciences companies including products liability litigation, IP, enforcement, and regulatory updates
More information about this event, including a full agenda, faculty list, and brochure can be accessed at 
http://americanconference.com/LSWomen
# # # A unique organization, American Conference Institute is devoted to providing the business intelligence that senior decision-makers need to respond to challenges both here in the US, and around the world. Staffed by industry specialists, lawyers and other professionals, American Conference Institute operates as a think tank, monitoring trends and developments in all major industry sectors, the law, and public policy, with a view to providing information on the leading edge.