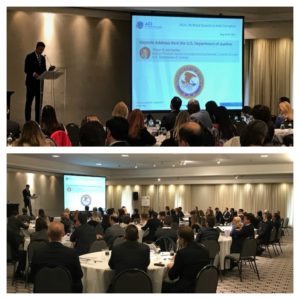 Trevor N. McFadden, Acting Principal Deputy Assistant Attorney General, Criminal Division, U.S. Department of Justice, is pictured delivering the Keynote Address at ACI's 7th Brazil Summit on Anti-Corruption in São Paulo I Brazil on Wednesday, May 24th, 2017.
Newsweek provided additional coverage of the Keynote address in an article by Josh Saul published on May 24th titled "Foreign Requests for Evidence Spike as Sessions's Justice Department to Help More with Bribery and Corruption Cases Abroad."
"'Increasingly, prosecutors around the world understand that investigating and prosecuting transnational crime necessitates transnational cooperation,' said McFadden, speaking at the American Conference Institute's 7th Brazil Summit on Anti-Corruption," states the article. Click here to read it in full. Learn more about ACI's Brazil Summit on Anti-Corruption by clicking here.