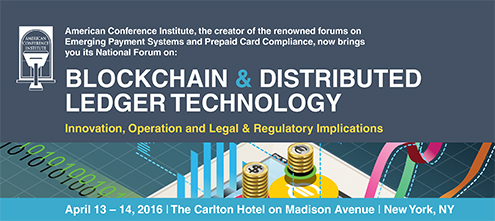 1. Arjun Kharpal & Julia Chatterley, CNBC, 
Bank of America is Going Big on Blockchain
(January 28, 2016)
2. Pete Rizzo, CoinDesk, 
BitPay Among Latest to Join Microsoft Blockchain Platform
(January 5, 2016) 3. PYMNTS, PYMNTS.com, 
Regulator Urges Blockchain Transaction Fraud Protection
(January 26, 2016) 4. Alex Hamilton, IBS Intelligence, 
Blockchain and Bitcoin Roundup: What's Current with Cryptocurrency
(January 27, 2016) 
Live Industry News

 Follow @ACILegal To join the conversation use #ACIBlockchain

Join ACI: Financial Services – Legal, Regulatory and Compliance Professionals 
Related Events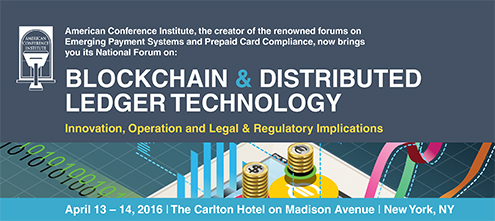 Building on the incredible success of our Prepaid Card Compliance and Emerging Payment Systems series of conferences, and in response to demand from the market, American Conference Institute has developed its premiere National Forum on BLOCKCHAIN & DISTRIBUTED LEDGER TECHNOLOGY: Innovation, Operation and Legal & Regulatory Implications. The first conference of its kind, it will bring together an unparalleled faculty of in-house counsel and compliance professionals, senior executives from industry-leading companies, high-level regulatory and enforcement officials, and top outside counsel who will provide you with the insights and tools necessary to navigate the legal, compliance, technical, operational and business hurdles arising from these new technologies.