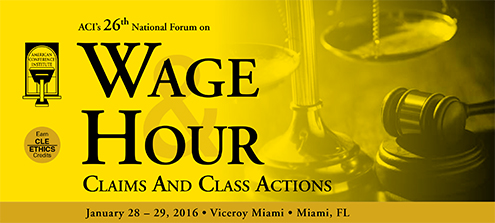 Michael W. Hawkins, Dinsmore & Shohl LLP, will be speaking at ACI's National Forum on Wage & Hour Claims & Class Actions, Thursday, January 28 to Friday, January 29, 2016 at The Viceroy Miami in Miami, FL.  In anticipation of the conference, check out our recent Q&A session with Michael Hawkins and Michael B. Mattingly: 
How will Obama's Proposed FLSA Revisions to White Collar Exemption Requirements affect your practice?
Obviously, we expect to handle more wage and hour matters following modification of the white collar exemptions. But also, employers will be searching for strategies to both ensure proper exemption classifications and deal with increasing labor costs in a creative manner. Providing ways to efficiently compensate and motivate the labor force in this new enforcement environment will be critical if and when the proposed regulations go into effect.
What are the Latest Trends in Independent Contractor Misclassifications Claims?
Since the issuance of the Administrator's Interpretation on July 15, 2015, both the Plaintiffs' Bar and DOL have stepped up their focus on misclassification claims. We are observing individuals working in positions that have been classified as independent contractors for years who are beginning to challenge the legality of such classifications. Employers also seem reluctant to give up on the use of independent contractors for some of their labor needs so we are continuing to see more and more attempts to have legal contracting relationships despite the inherent risk.
What are the latest nuances/twists you are seeing in Off-the-Clock Claims Involving the Use of Smartphones?
Individuals are using apps and becoming more savvy at creating their own time records (which then often conflict with employer records) to establish their FLSA claims. Many claims also involve at home work where employees are being asked to answer emails after work hours.
Are you seeing a rise in Claims Based on State-Level Wage Violations?
Yes. The Plaintiffs' Bar is becoming more acquainted with federal and state laws and determining how to best plead both. For example, some states have longer statutes of limitation or provide specific penalties for failing to pay proper wages.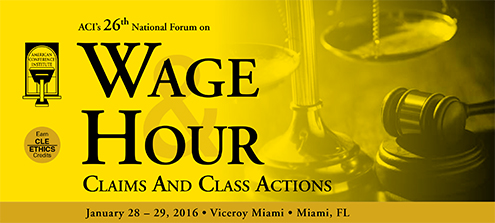 When: Thursday, January 28th to Friday, January 29th Where: Viceroy Miami, Miami, FL Learn More: 
www.AmericanConference.com/WageandHourMIA 
Keep the discussion going and join us on Linkedin: ACI: Employment Law Professionals Follow Us on Twitter:  
@ACIEmployment 
To join the conversation use #ACIWandH