The Annual Meeting Place for the Global
Anti-Corruption

Community
We have
re-imagined

this flagship conference for the global

anti-corruption

community toward keeping everyone safe- and reaching even more professionals worldwide. With a new virtual format come new possibilities—you can expect an experience that offers new opportunities to connect, benchmark and expanded your global network. This virtual format makes distance irrelevant!
Advantages of a Virtual Conference

Immerse yourself in live presentations, panel discussions, specialized breakout sessions and networking opportunities

Engage in meaningful dialogue with attendees and speakers in an interactive format

Meet 1-on-1 with other attendees and exchange contact information for lasting connections and true engagement

Expand your network globally

Visit solution providers and learn about the latest technologies, services and products
Eliminate the costs and stress of travel

Reduce waste and carbon footprint through this environmentally friendly platform

Matt Galvin
Global Vice President,
Ethics & Compliance
Anheuser-Busch InBev
Sam Pailca
Associate General Counsel
Office of Legal Compliance
Microsoft
Robert Luskin
Partner
Paul Hastings LLP
Welcome from the 2020 Co-Chairs
2020 Virtual Conference Schedule
Pre-Conference
Virtual Conference Orientation | Workshops | Chief Compliance Officer Roundtable
---
Networking "Ice Breakers"
Welcome from the Co-Chairs
Virtual Conference Orientation & Anonymous Polling
Exhibit Hall Grand Opening & Virtual Networking Opportunities
Main Conference Day One
---
Pre-Conference Networking & Benchmarking
Opening Remarks from the Co-Chairs
FCPA YEAR IN REVIEW
Global RISK THINK TANK
Networking Breaks
SPECIAL GENERAL COUNSEL INTERVIEW
KEYNOTE ADDRESS
Global Community Connections
Main Conference Day Two
---
Pre-Conference Networking & Benchmarking
Opening Remarks from the Co-Chairs
KEYNOTE & INTERVIEW
GLOBAL RISK THINK TANK
Networking Break
Interactive Benchmarking – Who's Doing What?
Special Industry Group ("SIG")
EXCLUSIVE INTERVIEW
Faculty-Attendee Roundtables
CLOSING TOWN HALL WITH DOJ, SEC, FBI, HSI AND IRS
FCPA Conference "After-Show"
Post-Conference
2nd National Forum on FARA
---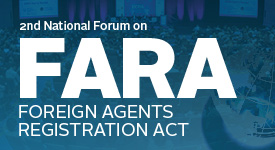 As the only comprehensive, practical event of its kind, gain critical updates for managing new legal, compliance, political and reputational risk factors.
Topics will include:
The scope of the Lawyer's, LDA and Commercial Exemptions
PR, Media, Tech and SEO Firms Under the Microscope
FARA Compliance Program Pitfalls
Legislative Reform

Post-Election
New 2020 Networking & Benchmarking Opportunities
Global Risk Think Tank
New for 2020, you will benefit from a series of sessions on the unwritten lessons and "war stories" from the global pandemic, settlements and geopolitical developments-and practical guidance for what is coming down the pipeline.
Who's Doing What?
With so much at stake, hear what others are doing to update their global compliance action plans, investigations and internal controls, and ensure effective third-party management with limited resources. Save your seat for the benchmarking opportunity of the year!
Special Industry Groups (SIGs) 2.0
Newly revamped for 2020, connect in a smaller-group setting with like-minded individuals from your industry. Expand your industry-specific network and gain best practices tailored to the realities of your business.
---
Open
Q & A

Breakout Sessions

Want more time to ask your most burning questions? New for this year, ask experts your follow-up questions at special Open Q & A breakout sessions.
---
Faculty-Attendee Roundtables
A unique opportunity to connect with expert faculty members in a more intimate, informal setting to chat and expand your "brain trust."
---
FCPA TECH
A unique chance to delve into the current landscape of technology solutions. Hear from industry decision-makers on how they are selecting and leveraging analytics, AI and machine learning for effective compliance and third-party management.
---
Country Risk & Compliance Exchanges
Based on popular demand, we are pleased to announce a new opportunity to meet up with leading practitioners from Brazil and China. Ask questions and gain important takeaways for managing evolving risk factors "on the ground".
Seating will be limited toward ensuring a smaller-group interaction.
---
Exclusive Boardroom Series
Designed as an intimate, boardroom-style session, participants will convene with experts who have worked on some of the most historic cases to date. The "closed-door" and smaller-group format will allow for candid, "off the record" discussion on sensitive, hot button issues.
---
Anonymous Audience Polling
With a user-friendly digital polling system, participants will respond to panel questions confidentially. Allowing for candid insights, take advantage of the chance to compare your compliance and investigations practices to your peers across the globe.
FCPA YEAR IN REVIEW
Each year, the opening panel has been the highly anticipated "Year In Review". Senior officials from the U.S. Department of Justice and U.S. Securities and Exchange Commission have provided key updates and have addressed audience questions.
TOWN HALL
Participants have benefited from an enhanced opportunity to engage in Q & A with senior officials from the U.S. Department of Justice, U.S. Securities and Exchange Commission and the Federal Bureau of Investigation during the highly anticipated closing session of the main conference.
Further details regarding the 2020 Town Hall will follow soon.
Chief Compliance Officer Executive Roundtable
Taking place the day before the main conference, this unique program is designed as a series of smaller-group, "closed door" discussions on critical issues, including ERM, cybersecurity, behavioral compliance, corporate governance, data privacy, and approaches to high stakes decision-making.
As in past years, all participants will be pre-qualified to ensure an optimal networking and benchmarking experience. Attendees will only consist of CCOs (and others with the same level of job responsibilities).
Practical, In-Depth Workshops
Laying the groundwork for the main conference discussions, you and your colleagues will benefit from a deep dive into key FCPA requirements, core elements of a compliance program and an updated toolbox for third-party management:
---