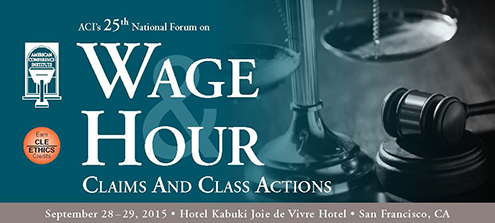 Ron Peppe, Vice President Legal and Human Resources, Canam Steel Corporation, will be speaking at our upcoming Sept. 28-29 Wage & Hour Claims and Class Actions forum in San Francisco.  In anticipation of the upcoming conference, check out our recent Q&A with Ron.
1. How will the DOL's new/proposed federal overtime regulations with regard to "white collar exemption" requirements affect your practice?
Our company is still evaluating the impact, but the increase in the threshold wage for the white collar exemption may require us to change some hiring practices because of the increased wage and compliance costs. The increase in the threshold is so dramatic is means the test is not aligned very well with workplace realities. We also remain very concerns about the next shoe to drop, i.e, changes to the duties test.
2. What impacts will the NLRB's redefinition of "joint employer" in Browning-Ferris have on future wage and hour claims?
When taken together with the new DOL interpretations of who is an "independent contractor", we are seeing all of the government agencies apparently determined to rewrite existing concepts to make companies responsible for compliance issues caused by our service providers and subcontractors. Many companies such as ours rely on staffing agencies to provide recruiting functions and assist with seasonal personnel issues, and we use subcontractors extensively in the construction business. These changes appear to lead to attempts by the regulators to make companies like ours responsible for the compliance by these suppliers and subcontractors, even though we have no control over their hiring and wage practices.
3. What will the implications be of the Latest DOL Guidance on Independent Contractor vs. Employee?
Same issues as 3- the guidance appears to be an attempt to make everyone an employee. Many independent contractors want to be independent, and want to control their own work assignments and hours, and often work for other companies as well as ours. These new tests ignore that reality simply because we also have employees performing similar functions.
4. What are the latest nuances/twists you are seeing in off-the-clock claims?
The expansion of bring your own device and the mobile workplace means we have to be extra careful with non-exempt employees.
5. Are you seeing a rise in claims based on state-level wage violations?
Not just state, but local requirements are driving a lot new compliance issues.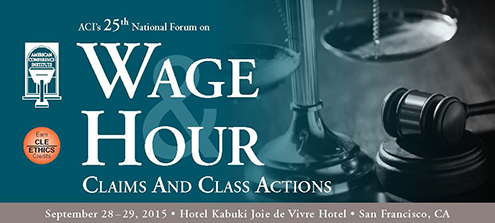 When:
 Monday, September 28 to Tuesday, September 29, 2015
Where:
 Hotel Kabuki, San Francisco, CA
Learn More: http://goo.gl/DJLLBU 
Keep the discussion going and join us on Linkedin: 
ACI: Employment Law Professionals
Follow Us on Twitter:
@ACIEmployment
To join the conversation use #ACIWandH