Virtual Conference On-Demand
Rx Drug Pricing Boot Camp
Catch-up on critical information – on your own time.
The 20th Annual Rx Drug Pricing Boot Camp took place May 11 – 12, 2022. Our outstanding faculty share insights on the most compelling topics impacting their daily lives and practices. See a snapshot of the event below then purchase the recording to watch at your convenience.
Elizabeth Lindquist
Partner
King & Spalding LLP
Stephanie Trunk
Partner
Arent Fox LLP
Emily Cook
Partner
McDermott Will & Emery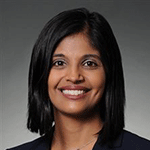 Meenakshi Datta
Partner
Sidley Austin LLP
Kirstin Hicks
Partner
Arnold & Porter LLP
Chris Jackson
Partner
The Law Office of Chris Jackson
UNDERSTAND how price is established and how the rebate system works
BUILD a live glossary of Medicaid and Medicare terminology
DEVELOP a thorough understanding of different pricing benchmarks and calculations including AMP, BP, ASP, and AWP
UNDERSTAND the mechanics of Medicare Part B and D
COMPREHEND the nuances of pricing and reimbursement under the Public Health Service 340B program
DECIPHER the perplexities of co-pay coupons, maximizers, and accelerators
DETERMINE how to secure appropriate coding, coverage, and reimbursement for new products
LEARN, APPLY AND BENCHMARK during an interactive lab that will demonstrate key concepts using a series of hypothetical examples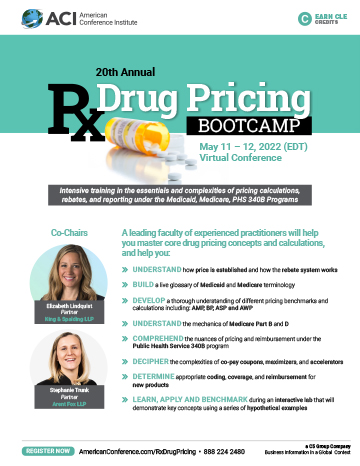 Conference Program
Flip through our 2022 conference brochure and discover what's new this year.
VIEW 2022 PROGRAM