Download Agenda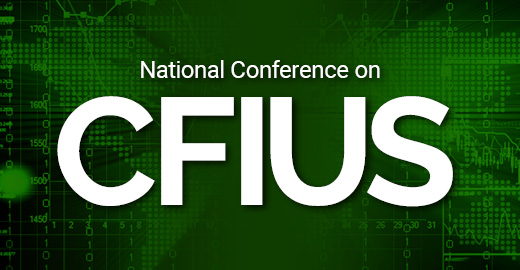 For seven years, ACI's flagship CFIUS conference has been the go-to event for international dealmakers and their counsel. This year's event will feature insights from industry leaders at Goldman Sachs, TE Connectivity and HCL Technologies on navigating pressure points of today's CFIUS landscape. It will also showcase key government insights from leading CFIUS officials at the Department of Treasury, Justice, Defense and Commerce.
Upon hitting submit, you will be automatically directed to the conference agenda as well as be sent an email with a direct link to view at any time.
Please fill in your details below.
---
How We Will Use Your Data
We will process your personal data in order to provide you with the information that you have requested, and to share information about our events and products, deemed relevant to you, in accordance with our Privacy Policy. If you have any questions about how we will use your personal data, or our privacy policy, please contact [email protected].
If you decide that you no longer wish to receive information about our events and products, you can contact us any time at [email protected]. Each of our marketing communications (whether by email, phone, facsimile, post or SMS) will also include an appropriate and easy way for you to unsubscribe.
American Conference Institute, Two Park Avenue, 20th Floor, New York, NY 10016 USA T: 1-888-224-2480 E: [email protected]
---