Virtual Conference On-Demand
Life Sciences Antitrust
Catch-up on critical information – on your own time.
ACI's Premiere Conference on Life Sciences Antitrust took place September 30, 2021 featuring esteemed faculty of antitrust enforcers, leading in-house counsel, and law firm attorneys who shared their insights on:
Current FTC and European Competition Authority Priorities in Life Sciences Antitrust Enforcement
The Latest Legislation and Competition Policy Being Contemplated by the Biden Administration
What the Global Life Sciences Industry Needs to Know About The "Multilateral Pharmaceutical Merger Task Force"
Recent Criminal Generic Price Fixing Cases and How They May Change the Outlook for Competition in the Industry
Future Forecasts for Reverse-Payment Settlement Litigation, Patent Thicketing, and Restrictive Distribution Agreements
The Implications of Recent Court Decisions and Enforcement Activity Related to Product Hopping, Sham Petitioning, Product Bundling, and Loyalty Rebating
And more!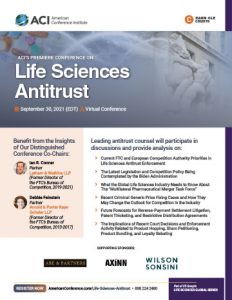 Conference Program
Flip through our 2021 conference brochure and check out what you can gain.
VIEW PROGRAM